In Communion / issue 45 / Spring 2007
Patriarch Bartholomew on unity
Speaking in Vienna's St. Stephen's Cathedral, Patriarch Bartholomew of Constantinople urged all Christians to overcome division and work for unity.
"Separated and split, Christianity loses its credibility," Bartholomew said in a speech in March after being given the Cardinal Koenig Prize, an Austrian award given annually to honor attempts at tolerance and reconciliation between religions.
"We can live in unity and harmony, without suppression, without fanaticism, without exploitation, without polemics and without arguments," he said. He appealed to all branches of Christianity "to overcome the scandal of division and strive for the unity Jesus himself desires."
Bartholomew spoke of Pope Benedict as "our very much-loved brother."
"Now, in this phase of the reorganization of Europe, we must help Christians and churches together."
He called on believers to assist the 100 million Europeans living in poverty.
Bartholomew expressed concern about climate change and pollution, rebuking the faithful "for letting God's creation, which today suffers so much, become an object of exploitation."
"The clock is already striking twelve! If we do not immediately recognize the signs of the times and act accordingly, we can expect ever more devastating natural catastrophes for which egocentric humans alone are responsible."
US economy leaving record numbers in severe poverty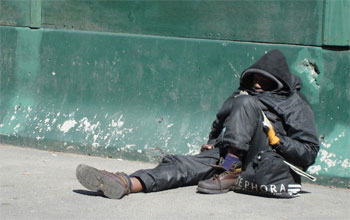 The percentage of poor Americans who are living in severe poverty has reached a 32-year high, millions of working Americans are falling closer to the poverty line and the gulf between the nation's "haves" and "have-nots" continues to widen, according to a study published in February.
A McClatchy Newspapers analysis of 2005 census figures, the latest available, found that nearly 16 million Americans are living in deep or severe poverty. A family of four with two children and an annual income of less than $9,903 - half the federal poverty line - was considered severely poor in 2005. So were individuals who made less than $5,080 a year.
The analysis found that the number of severely poor Americans grew by 26 percent from 2000 to 2005 - 56 percent faster than the overall poverty population grew in the same period.
The review also found statistically significant increases in the percentage of the population in severe poverty in 65 of 215 large US counties, and similar increases in 28 states.
Worker productivity has increased dramatically since the brief recession of 2001, but wages and job growth have lagged behind. At the same time, the share of national income going to corporate profits has dwarfed the amount going to wages and salaries. That helps explain why the median household income of working-age families, adjusted for inflation, has fallen for five straight years.
These and other factors have helped push 43 percent of the nation's 37 million poor people into deep poverty, the highest rate since at least 1975.
About one in three severely poor people are under age 17, and nearly two out of three are female. Female-headed families with children account for a large share of the severely poor.
Nearly two out of three people (10.3 million) in severe poverty are white, but blacks (4.3 million) and Hispanics of any race (3.7 million) make up disproportionate shares. Blacks are nearly three times as likely as non-Hispanicwhites to be in deep poverty, while Hispanics are roughly twice as likely.
Addressing the Parliamentary Assembly of the Strasbourg-based Council of Europe in January, Bartholomew said that dialogue between followers of different religions is essential, "especially in times such as ours when our planet is facing many warfronts all over the world." Both in the past and in the present, "religious reasons were put forth to edge individuals, or even entire peoples, to warfare."
Bartholomew noted that "the Ecumenical Patriarchate and the Greek-Orthodox minority in Turkey feel that they still do not enjoy full rights." Still, he said, "remarkable steps" had been taken by Turkey in recent years. "We have always supported the European perspective of Turkey in anticipation of the remaining steps to be taken according to the standards of the European Union."
Canonical conflict resolved
Speaking on behalf of the Holy Synod of the Moscow Patriarchate, Metropolitan Kirill of Smolensk announced that the canonical conflict centered on Bishop Basil "has come to an end."
"The problem arising from the transfer of Bishop Basil Osborne to the jurisdiction of the Patriarchate of Constantinople," said Kirill on 27 March, "has now been canonically completely regularized. The problem arose because Bishop Basil moved to the Patriarchate of Constantinople of his own accord, without any request coming from Constantinople, and without the consent of the Moscow
Patriarchate. Now Constantinople has asked for his personal file, in which it is normal to include a letter of release. This means that the Moscow Patriarchate has granted canonical release to Bishop Basil. The canonical conflict has come to an end."
"We release Bishop Basil. He will now legitimately represent the Constantinople Church. We shall be able to concelebrate with him," said Metropolitan Kirill.
Kirill noted that the resolution of the "canonical misunderstanding" was the result of the meeting in Geneva this winter between a delegation from the Patriarchate of Constantinople and a delegation from the Patriarchate of Moscow.
Israeli precondition for Patriarch's appointment
Israel is demanding that the Greek Orthodox patriarchy conduct a census of all church property in Israel and the Palestinian territories ahead of its sale or long-term lease, and to give Israel the first right of refusal on the property. Israel is also asking that the property purchased by Jewish organizations in the area of Jerusalem's Jaffa Gate will "remain in the hands of the Israeli lessees," according to a document that has reached journalists at the Israeli newspaper, Ha'aretz.
The document shows that a central issue for Israel is how to ensure that Greek Orthodox assets will be sold to Jewish bodies or to the state.
The document bears the signature of attorney Renato Yarak, a former senior State Prosecution official, attesting to the fact that Minister Rafi Eitan gave it to him. Eitan is a member of the ministerial committee dealing with matters pertaining to the patriarchy.
Yarak, the former head of High Court petitions in the State Prosecutor's Office, and another attorney, Rami Mugrabi, said Eitan gave them the document on January 18. The two represent Theophilos, who was elected patriarch by the Greek Orthodox Synod about a year and a half ago, and who has since then been working to obtain Israel's recognition as patriarch. Sources close to Theophilos said his attorneys were told that the acceptance of the clauses in the document were a condition to Israel's recognizing him as patriarch. Theophilos' attorneys rejected the conditions as an "illegal and extraneous" intervention in church matters.
The most problematic clause is the one dealing with properties at the Jaffa Gate. It states that the patriarch and the writer of the document must arrive at a process by which "the hotel" at the Jaffa Gate will remain in the hands of its Israeli lessees.
The property, consisting of three hotels, was sold to a company in the Virgin Islands, with members of the Ateret Kohanim association, which settles Jews in the Old City, acting as intermediaries.
The legality of the deal has been challenged in courts. Patriarch Irineos, who was dismissed from his post by the Greek Orthodox Synod after the sale of the hotels to Israelis came to light, claimed that he and the Synod had not approved the power of attorney as required by law. The demand by attorney Micha Kirsch, representing Irineos, that the deals be canceled, is now before the District Court in Jerusalem.
Catholic Peace Fellowship delegation to the Vatican
On the fourth anniversary of the war in Iraq, three American Catholic peace activists paid a discreet but significant visit to the Vatican. The representatives of the Indiana-based Catholic Peace Fellowship were in Rome in mid-March to promote the issue of conscientious objection to war.
"It's been a miraculous trip," said Joshua Casteel. "We've received great support and open ears here. It's encouraging to see that we are part of a tradition that's very sensitive to peace issues."
Casteel served in an Army intelligence unit in Iraq in 2004 and was an interrogator at the Abu Ghraib prison. After concluding that systematic torture was being used against mostly innocent people and that his own participation in the war was compromising his Christian witness, Casteel applied for and received conscientious objector status and left the Army after six years in uniform.
Casteel met Pope Benedict XVI on March 14, along with two other CPF representatives, Tom Cornell and Michael Griffin. Benedict has repeatedly expressed opposition to the war in Iraq.
Cornell, Griffin and Casteel proposed that the Vatican take a new look at the language of the Catechism of the Catholic Church on war and conscientious objection. The catechism notes that public authorities should provide for alternative service for those who refuse to bear arms for reasons of conscience. But it says the main responsibility for evaluating the conditions of a just war "belongs to the prudential judgment of those who have responsibility for the common good."
Griffin said that wording seems to imply that public authorities alone decide a war's morality. It gives too little weight to an individual's responsibility to evaluate the legitimacy of war in his or her own conscience, he said.
The CPF also visited the Congregation for Saints' Causes to ask about progress in the cause of Franz Jgersttter, an Austrian farmer who was executed as a conscientious objector to service in the army of Adolf Hitler.
Jgersttter had a wife and three daughters. Many, including a priest and a bishop, advised him to think of his family and forget about resisting the military machine. He was also told he should follow the political authorities who had responsibility for such decisions. But Jagerstatter refused to serve, and after a military trial in 1943 he was beheaded. Before being executed, he wrote: "I am convinced that it is best that I speak the truth, even if it costs me my life."
Conscientious objection focus of Vatican congress
Conscientious objection can be a testimony of help and service to life, said the president of the Pontifical Academy for Life at a conference - The Christian Conscience in Support of the Right to Life - held in the Vatican in February.
"Not only is there a legitimate place for the Christian conscience in the pluralist society," said Bishop Elio Sgreccia, president of the Pontifical Academy, but it is useful "for the whole society when the Christian conscience can express itself and offer its contribution." This requires "among believers true, certain and upright consciences, conditions that in no way can be taken for granted, or that are the result of improvisation, but rather of reflection, dialogue and at times of valiant effort."
He pointed out that conscientious objection "is not the only instance of the Christian conscience in the health field," but that above all "conscience calls for positive testimony in the service" for life. "But precisely because of the service to life, an honor that corresponds to every living man, it is necessary to avoid evil and, when it occurs, to activate conscientious objection and protest," the Vatican official said.
It is specifically in "the sector of life and holiness" where a whole series appears "of new situations where doctors and other figures linked to their activities are called to activate the claim of objection," he said. "In a society that wishes to be genuinely democratic, conscience must be able to speak for those who do not have a voice or are unable to express themselves. The aim of Christians, therefore, is also this: to give voice also to those who do not have an electoral voice, or economic power, but who have the same dignity as each one of us."
Mandela backs Gandhi's nonviolence approach
Nelson Mandela, who spent 28 years in prison for fighting apartheid before leading South Africa to multi-racial democracy as the country's first black president in 1994, joined Nobel laureates and elder statesmen in calling for the "reinvention" of Mahatma Gandhi's nonviolent approach to solving conflicts. At a conference in New Delhi, India, in January, Mandela said Gandhi's nonviolent approach, which won India freedom from British colonial rule 60 years ago, was an inspiration.
"His philosophy contributed in no small measure to bringing about a peaceful transformation in South Africa and in healing the destructive human divisions that had been spawned by the abhorrent practice of apartheid," said Mandela.
Referring to Gandhi as "the sacred warrior," Mandela said the Mahatma combined ethics and morality with a steely resolve that refused to compromise with the oppressor, the British Empire.
"In a world driven by violence and strife, Gandhi's message of peace and nonviolence holds the key to human survival in the 21st century," said Mandela. "He rightly believed in the efficacy of pitting the sole force of the satyagraha against the brute force of the oppressor and in effect converting the oppressor to the right and moral point."
Global warming means millions of climate refugees
A decade or so ago, environmentalists coined the term "climate refugees" to describe future victims of global warming. Today, experts say such refugees may already number in the millions and could reach 200 million by the century's end, stoking conflict.
They point to Inuit communities undercut by melting ice in North America and Greenland to the thirsty peoples around central Africa's fast-shrinking Lake Chad and the many thousands displaced from New Orleans by Hurricane Katrina. In the future, these ranks could be swollen by refugees fleeing flooded homes, parched farmland or wrecked economies, from small island states in the Pacific to tropical Africa and the Mediterranean rim.
"The issue of environmental refugees promises to rank as one of the foremost human crises of our time," said Norman Myers, an Oxford University professor.
"There is going to be a lot of population movement linked to climate," said Thomas Downing, director of the Stockholm Environment Institute in Oxford. "Not all will be permanent refugees, but when you add climate to other forces that push people beyond the capacity to cope, the numbers will increase."
A Red Cross and Red Crescent study in 2000 said 25 million people had left their homes because of environmental stress, roughly as many as the refugees from armed conflict.
Myers, an expert on the link between climate change and forced migration, says the number could double by 2010 and reach as high as 200 million "once global warming kicks in."
For fragile island nations such as Tuvalu in the South Pacific and Maldives in the Indian Ocean, global warming poses a triple threat. Warmer seas spell a threat to the coral upon which islanders depend to attract both fish and tourists; decreasing rainfall threatens drinking water supplies; and higher sea levels pose a threat by storm flooding or even inundation.
In the densely populated flood-plains of Bangladesh, rising seas will not only ruin fertile flood plains but stoke the storm surges that periodically ravage the low-lying nation.
Drought or water stress is another problem. According to one study, the crippling heatwave that struck Western Europe in 2003 and left tens of thousands dead is likely to be commonplace by 2100, a scenario that is especially bleak for people on the Mediterranean coast and its hinterland.
754,000 homeless Americans
The United States has three-quarters of a million homeless people, filling emergency shelters through the year and spilling into special seasonal shelters in the coldest months, according to a government report published in February.
The Department of Housing and Urban Development estimated there were 754,000 homeless people in 2005, including those living in shelters, transitional housing and on the street. That's about 300,000 more people than available beds in shelters and transitional housing.
The 2000 Census pegged the number of homeless people at 170,700, but it was widely regarded an undercount.
Among the findings for people in shelters and transitional housing: nearly half were single adult men, nearly a quarter were minors, less than 2 percent were older than 65, 59 percent were members of minority groups, about 45 percent were black, and about a quarter had a disability.
Emergency shelters are more than 90 percent full on average nights, the report said. They would be over capacity if not for seasonal shelters.
"We ought to be looking for ways to move people from shelters into permanent housing," said Nan Roman, president of the National Alliance to End Homelessness. "Building shelter beds doesn't result in these people being housed, but clearly, short of housing, everybody should have a roof over their head. This points out that we are not there, either."
A quarter of US war vets diagnosed with mental disorders
A quarter of the Afghanistan and Iraq war veterans treated with US government-funded health care have been diagnosed with a mental disorder, according to a study published in March by The Journal of the American Medical Association's Archives of Internal Medicine.
When psycho-social disorders such as domestic violence were included, the number of war veterans suffering from mental illnesses rose to 31 percent.
The instances of mental illness among recently discharged troops and members of the National Guard are significantly higher than those of a study published last year which examined active duty troops, the lead researcher told Agence France Presse.
That study found that while a third of returning troops were accessing mental health services, only 12 percent were diagnosed with a mental illness or psycho-social disorder.
"That's a big difference," said Karen Seal, a physician and researcher at the San Francisco Veterans Affairs Medical Center.
The most common diagnosis was post-traumatic stress disorder among 13 percent of troops, followed by anxiety and adjustment disorders among six percent of troops and depression and substance abuse among five percent of troops.
Of significant concern was the finding that 56 percent of those diagnosed had more than one mental illness, Seal said. "When people have more than one diagnosis they become more challenging to diagnose and, more importantly, we believe are more challenging to treat."
With a backlog of more than 860,000 medical claims and waiting times of up to a year for treatment, many of those coming home are not getting the help they urgently need, said Joe Davis, a spokesman for the Veterans of Foreign Wars.
"War changes everybody and everybody is going to have to deal with it in one way or another. The military is not doing enough on the preventative side or the treatment side because the military's role is to patch them up and send them to the VA [the Veterans Administration]. The VA is not doing enough because they did not prepare for the huge influx of new customers coming in from the wars and they haven't budgeted for it."
The researchers examined the records of 103,788 veterans of these operations who were first seen at Veterans Affairs facilities between September 30, 2001, and September 30, 2005.
About 29 percent of war veterans accessed VA health care facilities, the study found.
The troops most at risk were those aged 18 to 24, the study found, but mental illnesses were common among all subgroups.
New features on the OPF web site
A section has been added to the OPF web site that places on one page the articles on Peacemaking in the Parish that were published in recent issues of In Communion:
https://incommunion.org/articles/previous-issues/peacemaking-in-the-parish-2
A similar page - Pro-Life Resources - has been added with links to numerous articles on the protection of human life from the womb to old age:
https://incommunion.org/articles/essays/pro-life-resources-5
Also, it's now possible to get an update message whenever new material is added to the OPF web site. Sign up at:
Our thanks to Michael Markwick, who maintains the OPF web site.