Patriarch Kirill visits Ukraine
A ten-day trip to Ukraine by Patriarch Kirill of the Russian Orthodox Church included visits to a monument to victims of the Stalin-era famine, a liturgy that drew thousands to the scenic but tense Crimean peninsula, and a pilgrimage to Pochaev, one of the most important monasteries in the Orthodox Church. The visit started July 27.
"It is not my goal to give political recipes, or offer political analyses," Kirill said at the outset. "My task is, praying together with the people, to ponder with them our common spiritual present and future."
The Ukrainian Orthodox Church of the Moscow Patriarchate accounts for more than a third of the Russian Orthodox Church, but calls are growing for its autocephaly. Ukrainian President Viktor Yushchenko advocated uniting his country's Orthodox churches under the Istanbul-based Patriarch of Constantinople. The Moscow Patriarchate speaks of Kiev as the southern capitol in the Russian Orthodox Church, part of "a unified spiritual expanse that is much deeper and more enduring than political space."
While in Kiev, Kirill said that the Ukrainian Orthodox Church already functions as an independent church and that formal autocephaly at this time would be detrimental to church unity.
With President Yushchenko, Kirill visited a monument to those who died during World War II and to victims of mass hunger that occurred under Stalin in 1932-1933. "This was the common tragedy of our entire people, who lived in that time in one country," Kirill said.
During a visit to Rivne in western Ukraine, Kirill was the object of protest from adherents of the breakaway Kiev Patriarchate, who carried signs with slogans such as "The Russian Orthodox Church is the agent of Moscow's empire."
Kirill's first words to the crowd were "Christ is Risen!" He compared parishioners of the church that is faithful to the Moscow Patriarchate to catacomb Christians of the early centuries of Christianity. "Preserve the Orthodox faith, in spite of all divisions, preserve your unity, because in unity is spiritual strength."
On August 2, Kirill presided at a liturgy in Kherson, near the port of Sevastopol in Crimea."Today it is my fervent prayer that never and under no circumstances should brothers ever take aim at each other," he said, "that never and under no circumstances should the hand of one be raised against another, because nothing divides brothers so much as spilled blood."❖
Russian, Georgian patriarchs commemorate South Ossetia war
While their political counterparts lobbed charges of aggression in marking the first anniversary of the South Ossetia war, Orthodox Church leaders from Russia and Georgia called for peace.
Patriarch Kirill and Patriarch Ilia stressed the shared spiritual heritage of the warring sides, continuing the line taken last year by Ilia and the late Patriarch Aleksy, who together had sought reconciliation as the conflict raged.
At a panikhida at Moscow's Cathedral of Christ the Savior on August 8, Kirill said that the war was "a tragedy of three fraternal Orthodox peoples."
"Recalling this event, today we will pray for the repose of the souls of all those who died  regardless of nationality. We pray for all Orthodox people, who lost their lives in this war," said Kirill. "At the same time, we will entreat the Lord that never again and under no circumstances should Orthodox peoples raise their hands against one another and spill one another's blood."
Patriarch Ilia of Georgia spoke of the deep links between Russia and Georgia. He said that the churches would continue to encourage peaceful solutions. "We pay great honor and respect to Russia, its culture, and its spirituality," he said. "We have common saints. Russia must know we never reconcile ourselves to violations of Georgian borders. About this, Georgians are unanimous. We shall seek a peaceful way out. Orthodox churches of Russia and Georgia always support peaceful solution of the problem." ❖
Kirill and Bartholomew Meet
In July Patriarch Kirill of Russia, visiting Istanbul, held talks with Patriarch Bartholomew of Constantinople aimed at overcoming post-Soviet-era tensions that have divided the two Orthodox churches.
"From time to time, clouds have temporarily overshadowed ties between the brethren churches," Bartholomew said in greeting Kirill. "These clouds must be sent to their places in the pages of history."
Responding, Kirill said the two churches should unite to bear witness in the modern world.
"In conditions when religion is being pushed to the sidelines of public life, when the very understanding of sin is being wiped away, traditional moral values are being radically reconsidered and the profit motive is placed at the foundation of economics, we must unite efforts to defend Gospel norms and develop a unified Orthodox response to the challenges of our time."
The Moscow Patriarchate was angered in the 1990s when Constantinople recognized the Estonian Apostolic Orthodox Church as a separate entity. The status of the Orthodox Church in Ukraine has also become a thorn in relations between the patriarchates. ❖
Role of the churches in secular Europe
Meeting in Lyon in mid-July, a gathering of European churches opened with a call for Christians to be at the forefront of resisting all forms of violence and racism.
"As Christians, we dare to hope, even in an age when millions of people all over the planet are in despair, under pressure from the global economic crisis, and are overwhelmed by uncertainty," said Archbishop Anastasios of Albania, in welcoming delegates to the Assembly of the Conference of European Churches.
"There is hope when we resist all forms of violence and racism, when we defend the dignity of every human person," he said. "There is hope when we insist on the obligation for unselfish solidarity between people and peoples, when we fight for unfeigned respect for the creation." Christians, he said, must be at the forefront of "defending the dignity of all human beings."
Patriarch Daniel, leader of the Romanian Orthodox Church, warned against attempts to restore a "Christian medieval Europe" as a response to increasing religious plurality. "We will have to become more and more used to religious pluralism, with respect for the others, without falling into doctrinal or moral relativism."
The migration of people, he said, had radically changed the religious map of Europe. "In this complex context, we cannot afford to be nostalgic by attempting to restore a Christian medieval Europe. This is a new reality which brings about new challenges, where the churches must find together new solutions for new problems. European integration regarded only from an economic, juridical, financial and strategic-defensive viewpoint is not sufficient. The spiritual factor and, most of all, the religious one, because religion is the most profound dimension of human spirituality, cannot be disregarded."
Europe was experiencing, he said, a "profound spiritual crisis" marked by a tension "between tradition and modernity, a loss of traditional Christian values, and a painful instability of the family," as well as atheism, sectarianism and religious fundamentalism.
The economic crisis, he said, reveals "a spiritual crisis of greed that could be converted into an opportunity. This would entail promoting a change of attitudes about "the relationship between spiritual and material, between the amassing of wealth and the solidarity with the poor. The Gospel shows that Jesus Christ had a preference for the poor, for those in suffering, for those who cannot rely entirely on themselves." ❖
Archbishop Hilarion: Stalin a 'monster'
During an interview in Moscow in August, Archbishop Hilarion, head of the Department for External Church Relations of the Russian Orthodox Church, condemned Josef Stalin for committing the crime of genocide.
"Stalin was a spiritually-deformed monster, who created a horrific, inhuman system of ruling the country," Hilarion told the news magazine Ekspert. "He unleashed a genocide against the people of his own country and bears personal responsibility for the death of millions of innocent people. In this respect Stalin is completely comparable to Hitler."
Hilarion's statement contrasts with a study guide for high school teachers, approved by Vladimir Putin when he was president, in which Stalin is portrayed as an effective manager, comparable to the Russian tsars or to Bismarck, who united Germany in the 19th century.
Archbishop Hilarion in his interview said that "the number of victims of Stalinist repressions is comparable to our losses in the Great Patriotic War."
Yet, Hilarion also warned against idealizing pre-revolutionary Russia. "If everything had been right in the pre-revolutionary church, then there wouldn't have been a mass retreat from it during the revolutionary and post-revolutionary period. Maybe the revolution itself wouldn't have happened."
The situation today, said Hilarion, requires a different approach to relations between Church and State. "Of course, there were many positive things as well in the pre-revolutionary status of the Church in the State," he said, "but under no circumstances must there be an attempt to recreate the pre-revolutionary situation. We must create a new model of Church-State relations that would exclude those negative phenomena in church and public life that led to the revolution."
Shortly before Victory Day celebrations in May to mark the Soviet victory over Nazi Germany, Patriarch Kirill indicated an interpretation of events that might diverge with that of the Kremlin. The Soviet victory in the war was "a miracle," Kirill said, and the suffering of the Soviet people during the war can be seen as atonement for its rejection of Christianity during the Bolshevik era after the Russian Revolution in 1917. ❖
Solovki: from Gulag to spiritual center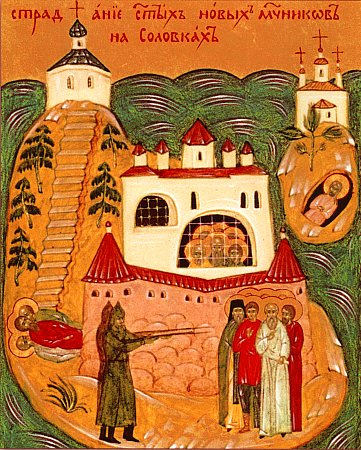 new martyrs of Solovki
The Solovetsky Islands off the coast of Russia's northern Arkhangelsk region  settled by monks in the 15th century became a center for the Gulag system of prison camps in the 20th century. Now the monastic archipelago is becoming a spiritual center not only for Russia but for all of Europe, said Patriarch Kirill when he visited the Golgotha-Crucifixion Hermitage on Anzer Island, where sick prisoners were sent to die.
Kirill's grandfather, Vasily Gundyayev, a priest, was a prisoner in the island camp, whose cruelty was immortalized in dissident Alexander Solzhenitsyn's book, The Gulag Archipelago. Kirill said it was a miracle that his grandfather had survived.
"We believe that these sufferings and torments have strengthened the power of the Church as it grows with a divine power rather than with a human one," Kirill declared. "It would be good if here, on Solovki, a national center for the study of the feat of the Russian church in the 20th century, the feat of the martyrs and confessors, was created."
When the Solovetsky Islands were seized by the Bolsheviks after the 1917 Russian Revolution, its monks became prisoners. They were joined by thousands of other clergy, believers, intellectuals, and aristocrats whom the new regime wanted to eradicate.
"The Lord himself chose this deserted place, so that his death and resurrection were specially commemorated here," said Kirill. "The Lord himself chose this place for people to take incomparable sufferings and torments."
While on the islands, Kirill called for the State to turn over all the property of the monastery to the Russian Orthodox Church to allow it to complete the restoration of the complex and open an Orthodox educational institution there. Solovki, as the islands and monastery are known, has in recent years witnessed disputes between the church, museum workers, and non-governmental organizations on how such monuments should be run. The monastery and grounds are shared by the church and a State-run museum.
Many pilgrims and tourists have been coming to Solovki, famous both for its many martyrs and its scenery and marine life. ❖
Bartholomew: Global Crisis an opportunity
The global crisis offers an opportunity to deal in new ways with our problems, said Patriarch Bartholomeos in a message to mark a day of prayer for God's creation, September 1.
"Human progress is not just the accumulation of wealth and the thoughtless consumption of the earth's resources," he said.
"We have rendered the market the center of our interest, our activities and, finally, of our life, forgetting that this choice of ours will affect the lives of future generations
"The present crisis offers an opportunity for us to deal with the problems in a different way, because the methods that created these problems cannot provide their best solution.
"If we believe that we are no more than consumers, then we shall seek fulfilment in consuming the whole earth; but if we believe we are made in the image of God, we shall act with care and compassion, striving to become what we are created to be." ❖
Ministry of urban parishes explored
The ministry of parishes in urban U.S. settings was the topic of a meeting hosted by the Diocese of the Midwest at Saint Theodosius Cathedral in Cleveland and Archangel Michael Church in Broadview Heights, Ohio, the weekend of July 16-17.
The program included presentations from Orthodox and non-Orthodox contributors, roundtable sessions, case studies, relevant workshops, and fellowship.
Fr. Justin Mathews of the Fellowship of Orthodox Christians United to Serve (FOCUS) gave examples of urban Orthodox parishes serving the homeless and hungry. Charles Robbins, outreach coordinator at Saint Gregory of Nyssa Church, Columbus, Ohio, offered personal insights into the outreach ministry of his parish. Through a combination of speakers and workshops, participants were encouraged get "unstuck" and think creatively about new initiatives in urban parish life.
In many cases, this could involve partnering with existing institutions, other Orthodox parishes, and non-Orthodox faith communities. ❖
Calley apologizes for My Lai Massacre
Speaking in a soft, sometimes labored voice, the only U.S. Army officer convicted in the 1968 slaying of the occupants of My Lai in Vietnam made a public apology while speaking to a small group near the military base where he was court-martialed.
"There is not a day that goes by that I do not feel remorse for what happened that day in My Lai," said William Calley in August. I feel remorse for the Vietnamese who were killed, for their families, for the American soldiers involved and their families. I am very sorry."
Calley, now 66, was a young Army lieutenant when a court-martial at nearby Fort Benning convicted him of murder in 1971. More than 500 men, women and children were killed in the massacre.
Though sentenced to life in prison, Calley ended up serving three years under house arrest after President Richard Nixon reduced his sentence.
Calley never denied taking part in the slaying, but insisted he was following orders.
"If you are asking why I did not stand up to them when I was given the orders, I will have to say that I was a second lieutenant getting orders from my commander and I followed them foolishly, I guess," he said. ❖
Palestinians study nonviolence
In the West Bank city of Hebron, nearly 30 percent are unemployed. Confronted with 78 checkpoints monitored by Israeli soldiers, for Palestinians even the shortest of trips is frustrating and time consuming.
Four Israeli settlements within Hebron's city limits, and another five just outside of the city, are home to some of the most aggressive and dangerous settlers in the West Bank.
In the midst of the violence and desperation, a dozen young Palestinian men and women have been meeting together to discuss the words and deeds of such advocates of nonviolence as Dr. Martin Luther King.
"They have come because of their refusal to accept defeat and because of their conviction that there is a way forward that does not involve violence, but chooses to draw its strength from love," according to The America-Palestine Report.
"They are participants in the Nonviolence Youth Hebron training program, and they are joining their voices with thousands throughout the Palestinian territories who are convinced of the potential to create change through nonviolent resistance to injustice."
Nonviolent Youth is a project of Love Thy Neighbor, a group based in Bethesda, Maryland, which for the past two years has sponsored nonviolence summer camps for children and nonviolence training seminars for young adults.
Through music, literature, art and role play, participants are given the opportunity to build and practice their nonviolence and conflict resolution skills.
Organizers draw on "the long history of nonviolent resistance that is woven throughout Palestinian society and culture," according to LTN's director, Tarek Abuata. ❖
Rabbis start fast for Gaza
A group of rabbis has organized a monthly communal fast to protest Israel's actions in Gaza.
Called Ta'anit Tzedek (Jewish Fast for Gaza: http://fastforgaza.net), the water-only fast takes place on the third Thursday of every month from sunrise to sunset. The first fast took place on July 16. Participants also are being asked to sign a statement at the group's Web site and donate the money they save on food to the Milk for Preschoolers Campaign sponsored by American Near Eastern Refugee Aid, a campaign fighting malnutrition among Gazan children.
The 13 rabbis who initiated the fast said that the project is based in Jewish tradition, in which "a communal fast is held in times of crisis both as an expression of mourning and as a call to repentance."
The fast has four goals: calling for a lifting of the Israeli blockade of Gaza, which has been in place since Hamas' electoral victory in early 2006; providing humanitarian and development aid to the people of Gaza; calling on Israel, the U.S. and other nations to negotiate with Hamas to end the blockade; and urging the U.S. government to "vigorously engage both Israelis and Palestinians toward a just and peaceful settlement of the conflict."
❖ ❖ ❖ ❖
Whenever people say, "We mustn't be sentimental," you can take it they are about to do something cruel. And if they add, "We must be realistic," they mean they are going to make money out of it.
� Brigid Broph
❖ ❖ ❖ ❖
Fall 2009 issue of In Communion / IC 54