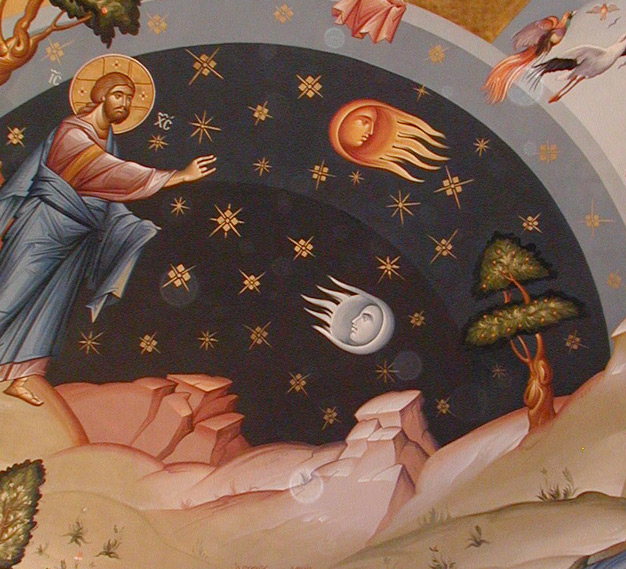 Dia-Logos with the cosmos: A Chapter from "Being Bread" by Fr. Stephen Muse, IC70
Dia-Logos with the Cosmos
by Stephen Muse, Ph.D.
What is man that Thou art mindful of him or the son of man that Thou visiteth him?  (Psalm 8:4)
Eternity knows no duration of time but contains in itself the full compass of the centuries. Eternity without space includes in itself all the expanses of the created world. —Archimandrite Sophrony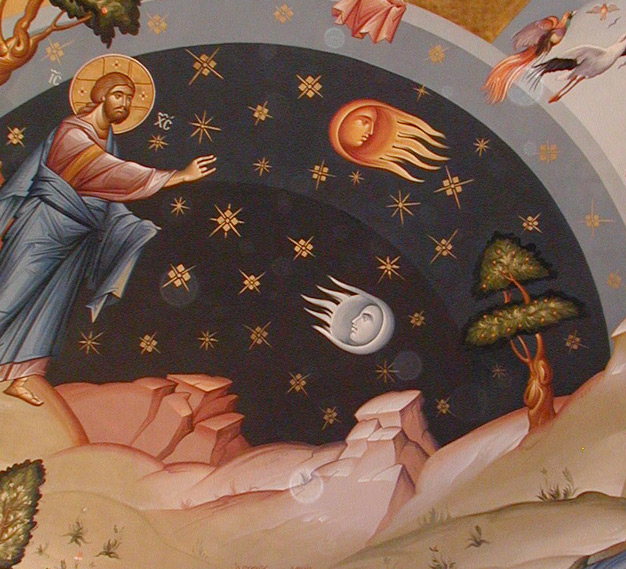 Astronomers recently discovered a planet six hundred light years away from earth with seventy degree temperatures in just the right position from its sun to support life as we know it. A mere six hundred light years is of microscopic proportions in comparison to the estimated size of the known universe, the whole of which may already be infinite. Beyond that we don't even know if ours is the only universe there is.
A light year is one of those concepts we use as if we know something, yet are totally unable to comprehend what we are saying in any meaningful way that connects with our experience. There are so many such imponderables in our lives that to go about thinking we are in control of anything or that we understand how the universe all fits together is a sure sign of madness.
I was watching an ant careen back and forth over a stone in our walkway. It was moving fast––perhaps fifteen times the distance of its own body in a second. If a six foot man moved fifteen times the length of his own body in one second he would be able to keep up with cars on the highway at speeds over sixty miles per hour.
"Now wait just a darn minute!" you say. "If that were the case, you could hardly even see the ant moving." Relativity is all about scale and proportion. The ant only looks slow to us because we are giants on a scale logarithmically beyond the world of the ant. It's not unlike how jets appear as tiny stars blinking in the night sky, barely seeming to move.
Some physicists have recently confirmed that neutrinos, part of the sub-atomic world that comprises the substance of the known universe, have been clocked moving faster than Einstein's now proverbial speed of light. Think about it, these little wave-particle dualities are flying around in our bodies at speeds we can't comprehend let alone notice.
Relatively speaking, there is as much distance between the electrons circling the nucleus of an atomic particle as there are between the planets circling the sun. These "clouds of energy" are what constitute the solid molecules that comprise the cells of our bodies. With that much space between the clouds of energy and wave particles racing through our bodies, we shouldn't even be able to see ourselves. Come to think of it, maybe part of us could make that trip to that new planet discovered only six hundred light years away after all, if only we knew how to switch back and forth from mass to energy like those electrons.
Appearing to stroll about at three miles per hour while spinning round and round, upside-down and right-side-up in a circle at one thousand miles per hour fastened only by gravity to the 24,000 mile circumference of the earth, which is itself orbiting the sun at close to 67,000 miles per hour, in a universe expanding outward at 180,000 miles per hour in our sector alone, is a trick few of us would attempt if we realized what we were doing!
The intricate, complex balance of all these gyrations is miraculous beyond comprehension. Considering that ants are moving at sixty-plus miles per hour under my feet while neutrinos pulverize and X-ray the vast emptiness of my body alternately as both particles and light waves while everything in the universe races toward infinity, I have concerns about how it is I am able to hold it all together from day-to-day.
Most of us are accustomed to operating as the center of our individual universes. We don't even break a sweat while managing the many spatio-temporal acrobatics of the greater cosmic dance, blissfully unconcerned how strangely empty and isolated we are. Popular religion often masks our awareness of this stunning reality that might otherwise bring us to our knees in awe. If I "believe in Jesus" (on the same scale as believing in Santa Claus or the Easter Bunny), I may conclude that this entitles me to an insurance policy for the afterlife while I continue to live however I want without regard for obeying a larger plan than my own self-satisfaction and individual preservation.
When truly troubled by my inability to live by conscience, I can calm myself by holding forth with something like "substitutionary atonement!" That's Seminarian-speak for "Jesus took the heat so I don't have to. God loves everybody. Nuff said?" Such casuistry serves as an excuse to go on unawares, doing whatever I wish without any consistent daily attempts to discover the degree to which self-love rules me instead of a God-centered frame of reference. The real situation is more that we are each flung into life with-out a choice, and then just as we seem to be gaining a foothold, we are yanked out at a moment not of our own choosing and dispossessed of all we have tried to possess in between.
In the publicly shared kingdom of "consensus reality" where reason and materialism are touted as king and queen, it is actually impulsivity driven by pleasure and pain of bodily appetites and the emotionality of likes and dislikes rooted in self-love that hold power. We eat and sleep, marry sometimes and procreate, and invent and accumulate things, all the while taking for granted that the world is pretty much the way we see it and want it to be; and whatever isn't, is too far away or blessedly unknown to be relevant to our daily lives. But why would the Creator of the universe go to the trouble of placing such tiny, insignificant creatures on such an insignificant planet on the outskirts of the galaxy in a cosmos so gigantic that we'd be afraid we were lost if we weren't so dazzled by all the toys we have to play with in the meantime? If we live for eighty, ninety, or even a hundred years, it is still less than a nanosecond in cosmic time in comparison to the universe's fourteen billion years of existence. Are our ordinary daily lives all we really need to be concerned with?
For five thousand years or more, the prophets of Israel, Zoroaster, the sages of the Upanishads, the Buddha, Jalal'udin Rumi, and of course Jesus have borne witness to a world that cannot be seen or comprehended by the narrow-minded "manmade" complacency we live 99.9 % or our lives believing in and conforming too. They all tell us that human life is not merely eating and drinking, marrying, and working. And they say that these cannot be what they are intended to be without recognition of the invisible world in our midst.
When the cosmopolitan, sophisticated, wealthy, and well-educated Nicodemus approached Jesus by night with the opening salvo of "Rabbi we know you are a teacher come from God because of...," he was presuming to comprehend the mystery of God on earth according to what he already knew, based on lifelong study, reason, and the sense impressions that govern the narrow band of academic and common-sense knowing that constitutes everyday life. Jesus challenged his presumption immediately: "No one can see the Kingdom of God unless they are born from above." That is, unless they have encountered the Holy Spirit who noetically awakens us to the presence of an uncreated world permeating and giving rise to this one, where God, who is sovereign and source of all life, communicates with the human heart.
The greatest tragedy of our lives is that we reduce our Messenger from beyond the known universe and his prophets to fit within our paltry socially-constructed and democratically agreed upon understandings of the world as we already are familiar with it, rather than seek to encounter the One who alone can lead us out of our present darkness into a love and meaning beyond our wildest comprehension.
Apart from this set of magnitudes, Jesus all too easily morphs into insipid cultural shibboleths, redirecting us back to the comfortable and well worn paths of a civil religion acceptable in the public square. The sharp edges of Truth and the authenticity of dialogue with the Absolute God incarnated as a human being, are removed in order to seem inclusive and avoid offense. Christian faith is reduced to the magic of Disney-belief in a slot-machine deity who passes out tickets to paradise based on legalistic or sentimental adherence to religious slogans repeated by rote without heart, repentance, or obedience.
Or God serves merely as a convenient shape-shifting metaphor for fundamentalist intolerance or touchy-feely "luv" and a political correctness that reaches no higher than the natural emotional bonds of family and species that include those we like, are related to by blood, or with whom we share business transactions, while excluding others who challenge the accumulated power and privilege afforded by being in the world me-first. We are "monomeists" pretending to be monotheists.
In order to do all this without being disturbed by conscience, we console ourselves with what Dietrich Bonhoeffer called "cheap Grace." But the Message and the Messenger are far greater than this sort of theological flat-earth perspective. When asked by someone "if only a few would be saved," Jesus responded by pointing to a difficult truth:
"Strive to enter through the narrow way, because many I tell you, will try to enter and will not be able to. Once the owner of the house gets up and closes the door, you will stand outside knocking and pleading, 'Sir, open the door for us.' But he will answer, 'I don't know you or where you come from.' Then you will say, 'We ate and drank with you, and you taught in our streets.' But he will reply, 'I don't know you or where you come from. Away from me, all you evildoers!' There will be weeping there, and gnashing of teeth, when you see Abraham, Isaac, and Jacob and all the prophets in the kingdom of God, but you yourselves thrown out. People will come from east and west and north and south, and will take their places at the feast in the kingdom of God. Indeed there are those who are last who will be first, and first who will be last" (Luke 13:24-30).
This narrow way begins with metanoia––repentance––which is the discovery that as we are, we are not in our right minds. We are not in our right minds because our minds belong in our hearts where grace can affect us beyond mere words and the illusions of comprehension that console us, where it can change our lives. It will take a lifetime of struggle to respond to the Divine Life.
People who have lost their worldly minds from having personally encountered the Messenger and the Message, begin to travel in a different universe, one Jesus called the Kingdom of God. Worldliness is no longer their primary frame of reference. One who considers the reality of an uncreated God who is entirely separate from human consciousness, in whose image we are made yet who is closer to us than our breath, awakens to and gains interest in and response-ability to someone greater than ourselves, someone who loves the whole of creation's riot of diversity expressing the joy and solidarity of the Creator with beings of all colors, shapes, and sizes. One who is seized by this kind of wonder and humility begins a new vocation!
There is a Buddhist saying to the effect that it is rarer to be born a human being than for a turtle swimming in the great ocean, surfacing once every five hundred years, to surface with its neck in a single ring floating on the surface of the water. Perhaps so. I suspect this is true. What a responsibility! Unlike Descartes, I do not take for granted that "I am" simply because I appear to think or move or breathe or make money, write a book, run a company, complete a university degree, have a baby, or do any other number of things that appear to be mine in the small localized scheme of things. The fact is we can be more certain of the existence of God than of our own. How then to be responsive to the purpose of God for human life on earth and for my life in particular? What am I here for? What is the aim of my life?
These kinds of questions begin to irritate (or depress) a lot of people if they have to consider them for longer than a brief moment. As entertainment they suffice. Like the ancient Athenians observed by the Apostle Paul two thousand years ago, every-body likes the latest news for its entertainment value, but as a real moral problem to be considered over a lifetime with the seriousness that Einstein considered unified field theory or Jesus pondered over Jerusalem, it is another matter. To consider the reality of God beyond and separate from my own consciousness starts to open up those uncomfortable questions of obedience and response-ability again.
Sustain these questions long enough and they begin to reveal a hidden world that cannot be known apart from repentance, ascetical struggle, prayer, worship, and the humility that comes from being dethroned from the center of the universe. Thankfully, what disturbs our paltry "self-esteem" is also what opens the door to the Great Mystery where the journey begins. It is a path that can only be walked by those who have discovered they are paralyzed by complacency and surfeit, can only be seen by those who have discovered they are blind to the uncreated world, can only be heard by those who are deaf to counterfeit worldly ways, can only be begun by those willing to leave behind attachment to what is past at the first hint of invitation from the One to whom the path leads in the present moment.
Once having crossed this threshold, when the forces of resistance question me, as to who it is that is putting me up to all this—creating these questions and disturbing the status quo, revealing to me that I am in the world but not of it, I shall be very careful with my reply and, like Moses, when I refer to "I AM WHO I AM," at least I will know that it is not me that I'm talking about.  IC