Holy Consistency: Jim Forest 's Life of Protest and Proclamation By Michael Plekon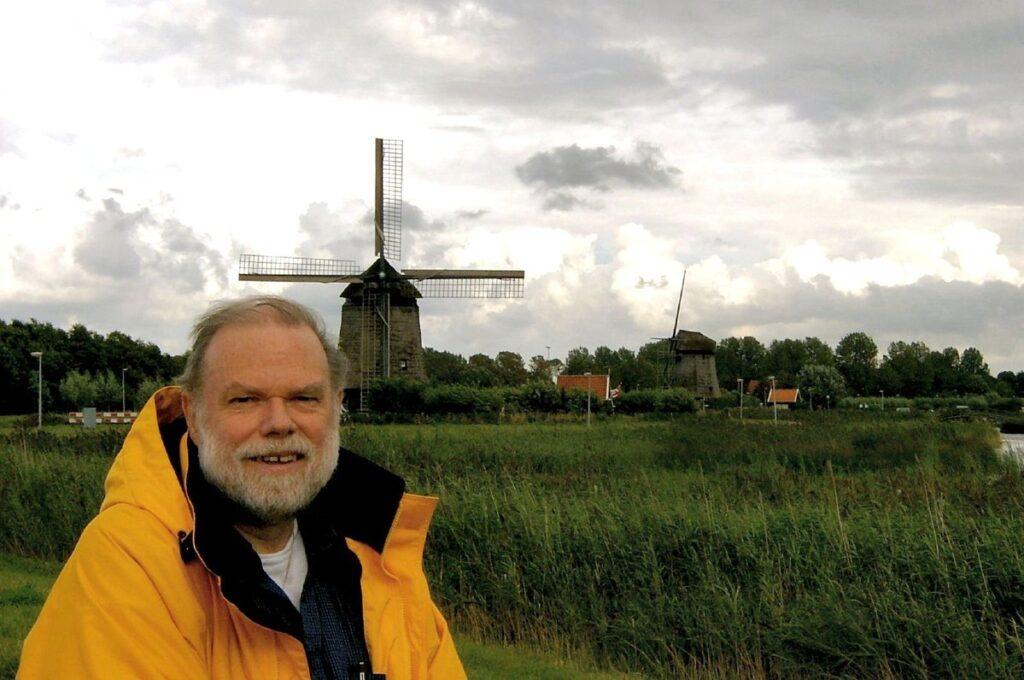 I was grateful to have known Jim Forest. Mostly I corresponded with him. I last was with him at a conference of the Thomas Merton International Society on the hundredth anniversary of Merton's birth in 2015. This was at Bellarmine University in Louisville, where the Thomas Merton Center is located. With so many there, and given Jim's connections personally to Merton and his tasks, I did not have more than a brief greeting. Years earlier, in the 1990s. when he was in NYC, Jim gave a talk for students at my campus of The City University of New York, Baruch College and we had time to talk over lunch afterwards. We had more contact through emails. I reviewed many of Jim's books over the years, mostly for Cistercian Studies Quarterly, a journal that Merton founded. I sent Jim the texts of many of the books I published and he was good enough to endorse or "blurb" a couple of them.
With good reason do I title this essay "holy consistency." I believe it is an apt description of Jim Forest as a person and an accurate characterization of his ministry. I mean that for all the twists and turns, changes and new beginnings there was a coherence to his life of peacemaking, protest, resistance and witness. Jim learned how to do this from several friends and others who were truly persons of faith, saints in every sense of the term, though they are not canonized. Taking a phrase from Dorothy Day, Jim described their lives with all the wrinkles, revealing "saints as they really were." Both he and I were among those committed to spreading the word about one who eventually was made a saint in 2004 by the synod of the Ecumenical Patriarchate, St. Mother Maria Skobtsova. She was canonized along with her companions Fr. Dmitri Klepinin, chaplain of her house of hospitality in Paris, also its treasurer Ilya Fundaminsky and her son, who lived and worked there, Yuri Skobtsov. Jim devoted many articles and talks to Mother Maria and her witness of love in trying to protect and save those who would have become victims of the Nazi occupation of Paris. Hers was a particularly powerful sacrifice as she and her companions all died in concentration camps for their love of the their neighbors. She and her companions not only resisted monstrous evil but stood for peace, which was a holy consistency in Jim's life.
Jim had an enduring commitment to persons of faith. Consider his splendid biographies of Dorothy Day, who wrote that we ought to better know "saints as they really are," defects, failures, sins and all. Jim further did excellent biographies of Thomas Merton, Daniel Berrigan and Thich Nath Hanh. He deftly examined their lives and showed their grounding in prayer. He knew these holy people of our time and was considered a friend by all of them. His own memoir lists even more contemporary persons of faith who shaped his spiritual life and his activism, among them A.J. Muste, John Heidebrink, David Kirk and Henri Nouwen.
Jim's wonderful memoir, Writing Straight with Crooked Lines, is a courageous opening the door to all the turns and twists in his own life—his complicated, often turbulent childhood and young adulthood, the marriages that failed, and his seeking for a spiritual home in which to base his work in protest and peacemaking, a community also full of passion and conflict. This work took him through the Fellowship of Reconciliation to The Catholic Worker and an intense and sometimes volatile relationship with that remarkable holy woman, Dorothy Day. Jim would be part of the Catholic Peace Fellowship and later revive the Orthodox Peace Fellowship. Another aspect of his holy consistency was that in all of these groups writing, speaking, discussion and action were rooted in prayer, the scriptures and the Eucharist.
He made a pilgrimage to Gethsemani abbey in Kentucky, met and as noted, became a friend of Thomas Merton, with a correspondence that lasted till Merton's death. Jim had a profound relationship over the years with Father Daniel Berrigan as well as the Buddhist monk Thich Nath Hanh. When I wanted to write about the importance of the Eucharist for Merton and Berrigan in their vision of protest, resistance and peacemaking, it was to Jim that I went. At the important retreat that Merton sponsored at Gethsemani abbey in November, 1964, Jim was a participant and his photos chronicled the participants in this significant gathering. For the retreat, in order to avoid trouble with his abbot, Merton handed over the celebration of the Eucharist to Dan Berrigan. Glen Oyer's excellent study of this retreat, based on documents as well as interviews of surviving participants, enabled me to write about those liturgies which were ahead of their time in opening up worship in the vernacular and with ecumenical eucharistic hospitality. Jim made it clear that both Merton and Berrigan saw the roots of their protest in the bread and cup around which they and others gathered.
Consistency is evident despite the seeming diversity of the writing he produced over the years. A number of books focus on protest and peacemaking. The Root of War Is Fear: Thomas Merton's Advice to Peacemakers gathers Merton's pieces on the need to stand against violence. With Hildo Bos he produced an encyclopedic anthology of texts, For the Peace from Above: An Orthodox Resource Book on War, Peace and Nationalism. The collection extends through numerous writers, from the patristic era to contemporary authors. This is a remarkable effort to document the Eastern Church's essential opposition to violence, despite all the militarism and aggression by imperial states and other governments aligned with the church over the centuries. There was no avoiding conflict and several texts reflected the disagreement of traditionalist writers to the volume's effort to see the Eastern Church as non-violent.
However, just as Jim's writings did not focus only on peacemaking but included studies of persons of faith, other works were devoted to prayer and the spiritual life. Praying with Icons remains an accessible and thoughtful study as are those Jim did on confession and pilgrimage. Jim also did a children's book on Mother Maria. It tells the story of her smuggling Jewish children out of the cycling stadium in which they had been rounded up from greater Paris with their families by the Nazis in the summer of 1942. They were to be held there pending transportation to other locations and then to concentration camps. Mother Maria got sanitation workers carting out trash to put children into the rubbish bins. After these were hauled away, the children would be taken and put into the underground railroad system of safe houses to get them out into rural areas. There they could be furnished with identification papers to enable them to be hidden with other families. This was only one of many articles and essays on Mother Maria, introducing her to a wider audience.
Jim worked in a number of peacemaking groups. He was jailed a number of times for protest activity, in particular for raiding a draft office and burning records there—the Milwaukee Fourteen. In the Netherlands, where he went to head up the international Fellowship of Reconciliation, he met and later married Nancy Flier with whom he lived out the rest of his life, In the last decades, the Orthodox Church became his spiritual home. A trip to Russia became a deeper encounter with the Orthodox Church. Jim wrote about the Eastern Church in several books, one narrating its situation in Russia. He was received into the Orthodox Church at the parish of St. Nicholas in Amsterdam. His friendships with Merton, Day and Berrigan gave him an ecumenical vision of the inherent unity in faith of the churches, so he described his reception not so much as a "conversion," but as he termed it a "change of address."
In being a member of St. Nicholas parish in Amsterdam, Jim was, with Nancy, part of an extraordinary community. In the wake of the Russian Church's support of the invasion of Ukraine, this parish voted to leave the Russian Church's jurisdiction. While Jim had a deep bond of affection for the Russian Church, I think his lifelong commitment to peace and justice would have led him to oppose the political-theological ideology of a "Russian world" or civilization, superior to the godless West and destined to conflict with it.
Jim was founder and longtime editor of the journal In Communion. In its issues, he sought to educate on the themes he had championed all through the years—peace, social justice, ecumenical openness, the spirit of forgiveness and reconciliation. I have learned much from it over the years and put its fine archives to work in a distance learning course I continue to offer with The Ukrainian Catholic University in L'viv on ecumenism and opposition to it, extremely important given the ecclesial climate in which we are living, one in which breaking communion has again become a political and theological weapon.
One of the most challenging of his books for me, personally, was Loving Our Enemies: Reflections on the Hardest Commandment. Here one can find his holy consistency at its most powerful. The "new commandment" of Christ, to love one another, enacted in the Lord's washing his disciples' feet made peacemaking and reconciliation and forgiveness essential to living the Christian life, to putting the Gospel into practice. It is the greatest commandment but, as he observes, the most difficult for the human heart, which seeks its own justification and protection. If Dorothy Day, one of his beloved mentors, taught anything, it was precisely this, to love the neighbor as God loves us. And in so doing, we love God in the neighbor. The other great mentor who echoed this was St. Mother Maria Skobtsova.
I suspect if Jim were to read what I have written here, he would have laughed heartily at my characterization of him and his life as "holy consistency." After all, he thought to describe himself and his pilgrimage as God's "writing straight with crooked lines." But therein, I think, It is again possible to hear the voices of his "living icons"-- Thomas Merton, Dorothy Day, Thich Nhat Kanh, Maria Skobtsova and Daniel Berrigan, to name just a few. Having written about their lives and listened to their writings, Jim's memoir title fits every one of them. Each person of faith, and now we must include Jim Forest, was a canvas with many failed strokes, reworkings and changes. For such it is to follow Christ. We remember him with gratitude and love. We will continue to be taught by his writings and by his own open and authentic way of living. Christ is risen. Memory eternal.
---
Michael Plekon is Emeritus Professor of Sociology and Religion, The City University of New York, Baruch College, where he taught for forty years. He has also served as a priest in the Western and Eastern Churches in a number of parishes, alongside teaching and research. He is married with two adult children.