JIM FOREST: A PILGRIMAGE OF FRIENDSHIP by Robert Ellsberg
In one of our last conversations, Jim Forest and I reflected together on the curious signs and synchronicities that had marked our lives. For Jim, many of these were described in his memoir, Writing Straight with Crooked Lines. In certain cases, I was a firsthand witness. There was, for instance, the time when Jim was visiting me in Cambridge and I suggested we go to see a new Russian movie, "Moscow Does Not Believe in Tears," a recent Academy Award winner. Though Jim had spent decades promoting peace and reconciliation between opposing camps of the Cold War, his knowledge of actual Russian people was quite limited. This film, which depicted the stories of three young women, charting over several decades their friendship, their hopes, joys, heartaches, and search for love, evidently struck a spark in Jim's heart. It would be the first step on a journey that ultimately led him to the Russian Orthodox Church.
But among the providential features of our lives, an obvious case in point was our friendship itself, a shared journey of many decades, marked by hopes, joys, faith, and our intertwined vocations. It began with our first encounter in 1972, when I was 16. Jim, fourteen years older, had seemed not simply from a different generation but from a different universe in terms of his experience and wisdom: already a former editor of The Catholic Worker, a friend of Dorothy Day, Thomas Merton, and Daniel Berrigan, a co-founder of the Catholic Peace Fellowship, who had spent time in prison for his role in burning draft cards as one of the Milwaukee 14. As I later learned, Jim was incredibly encouraging to every person he met--with a seeming gift, shared with Dorothy Day, of seeing into people's hidden gifts and possibilities. I felt ennobled by his attention, though I could not have foreseen the significance of that encounter for both our lives.
The next year, while an exchange student in England, I read an article that Jim had written in Fellowship magazine about the Zen monk and peacemaker Thich Nhat Hanh. During a spring break in 1973, I thought I might as well go to Paris and meet this monk, and so I did, knocking on his door in the suburb of Sceaux, and receiving a gracious welcome. The next summer I returned for a longer visit, this time, by chance, finding that Jim was there as well. Together, we took a day-trip to Chartres Cathedral, talking non-stop--a conversation that would continue for the next half a century.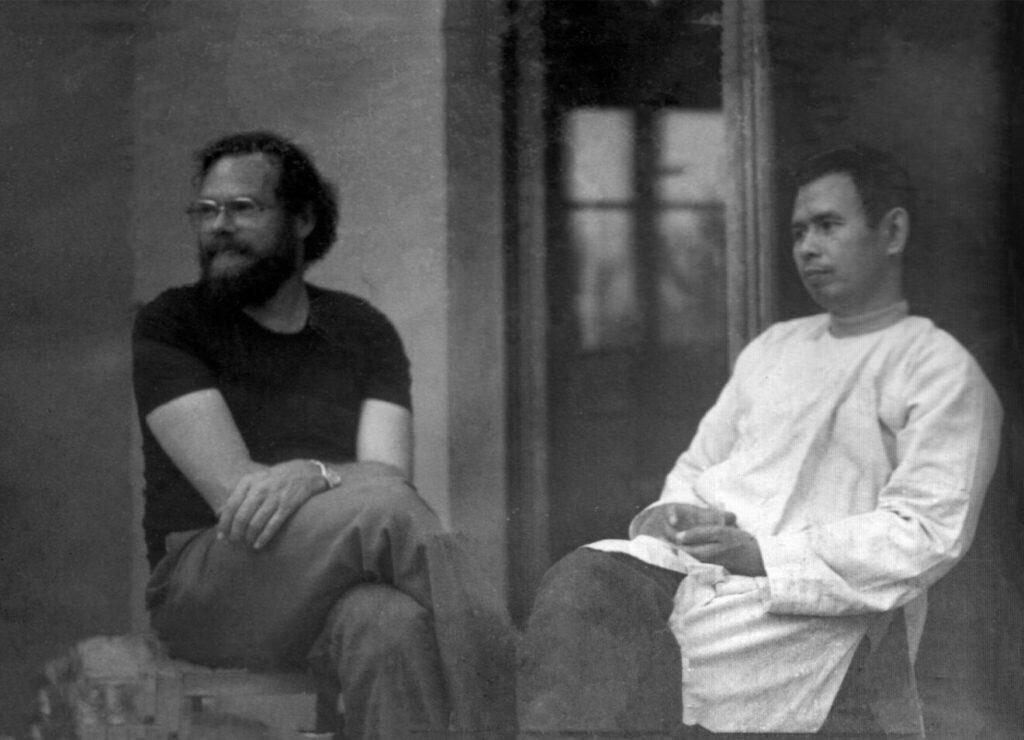 In 1975, I decided to take a year's leave of absence from college and, inspired by Jim, thought I would begin by volunteering at the Catholic Worker in New York City. I had no idea how one actually did this. While visiting Jim in Nyack, New York, where he worked for the Fellowship of Reconciliation, he easily solved my problem by calling St. Joseph House and asking if they had a spare bed. What good fortune: they did! And so I literally embarked from Jim's house, the first step on a journey that would entirely shape the course of my life. After a few months, Dorothy Day asked me to serve as managing editor of the paper--following in Jim's footsteps 25 years earlier--and so what I had envisioned as a brief sojourn, stretched into a period of five years.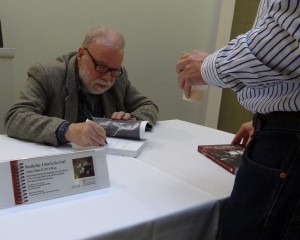 As for his relationship with Dorothy--that was more complicated. Following the failure of an early ill-advised marriage and his plan to remarry without first seeking an annulment, Dorothy wrote him a bracing letter: "When God asks great things of us, great sacrifices," she wrote, "He intends to do great things with us." Counseling him to resign as secretary of the Catholic Peace Fellowship, she said that otherwise she would remove her own name as a sponsor. "You are certainly going through the sorrowful mysteries. But if you don't go through them to the glorious, you will be a hollow man, and considered an opportunist and a fraud."
Jim's life too had been indelibly marked by his short time at the Catholic Worker, both through the influence of Dorothy Day and, through her, his friendship with Thomas Merton. His arrival at the Worker had coincided auspiciously with the beginning of Merton's public turn toward peace, as highlighted in a series of prophetic articles he submitted to The Catholic Worker. Dorothy assigned Jim to pursue this connection, leading to a trip to Gethsemani. Though Jim had been contemplating a monastic vocation, Merton suggested that perhaps his true calling was to the peace movement. And so it was. Jim went on with Tom Cornell to found the Catholic Peace Fellowship, just in time to meet the mounting crisis of the Vietnam War, and the dilemma of young Catholic conscientious objectors who were struggling over the military draft. Jim remained an intimate friend of Merton, exchanging dozens of letters, Merton confided in Jim about his own crisis of conscience over the censorship of his peace writings, while in turn offering spiritual counsel the young activist. When I asked Jim one time how he understood Merton's intense interest in him, he reflected that perhaps the monk regarded him as a kind of son. And how did he feel when he learned in 1968 of Merton's death? He paused, before becoming overcome by tears: "It was like losing my father."
Dorothy's own vocation, following her conversion to Catholicism, had been rooted in the costly sacrifice of her relationship with the man she loved, the father of her daughter, when he refused to get married. Doubtless this affected the strict standard to which she held others. Nevertheless, for Jim, it was a dark night.
Merton and Daniel Berrigan both counseled him not to resign from the CPF, and he did not. Nor in the end did Dorothy withdraw her sponsorship. Though she never wavered on her principles, she did, as was often her way, come to regret her judgmental tone. In 1974 Dorothy wrote him "to apologize for my critical attitudes and to promise to amend my life!! or attempt to by 'mortifying my critical faculties.'" She added: "I don't remember ever hearing you criticize people." Yet for many years Jim's name was effectively banished from the paper.
This reproval by his spiritual mother must have deeply hurt. Yet among all Dorothy's countless spiritual children there were surely few who remained more faithful and dedicated to her message and memory. In All is Grace, his biography of Dorothy, he concluded: "In my own life, every time I think about the challenges of life in the bright light of the Gospel rather than in the dim light of politics, her example had its influence. Every time I try to overcome meanness or selfishness rising up in myself, it is partly thanks to the example of Dorothy Day. Every time I manage to see Christ's presence in the face of a stranger--there I owe a debt to Dorothy Day. What I know of Christ, the sacramental life, the Bible, and truth-telling, I know in large measure thanks to her, while whatever I have done that was cowardly, opportunistic, or cruel is despite her."
As it turned out, during my time as managing editor of the Catholic Worker, I had a small part in Jim's "rehabilitation.". This began when Jim shared with me an essay he had written about Thomas Merton as peacemaker, which included a long quotation from a letter Merton had sent him in 1966. Merton's letter had come in response to a letter from Jim in which he expressed his growing sense of frustration in his efforts against the war in Vietnam. The war continued to escalate, but who was listening to the voices of peacemakers? What difference were their efforts making?
In a long reply, Merton wrote, "Do not depend on the hope of results. When you are doing the sort of work you have taken on, essentially an apostolic work, you may have to face the fact that your work will be apparently worthless and even achieve no results at all." Merton counseled Jim about not investing in slogans, or in building an identity in his witness as a way of protecting himself from nothingness. "The real hope," Merton wrote, "is not in something we think we can do, but in God who is making something good out of it in some way we cannot see."
Jim took Merton's letter to heart. He later called it the most important letter he had ever received. It set him clearly on a life of extraordinary dedication to the Gospel call of peacemaking--which, as he came to understand, was more than simply being "anti-war." "In the end," Merton had noted, "it is the reality of personal relationships that saves everything."
I asked Jim's permission to reprint a portion of this letter, which appeared in the Catholic Worker under the title, "Letter to a Young Activist," and crediting him as the recipient. By that title, I was later astonished to learn, it would become one of the most oft-reprinted of Merton's writings, and Jim would occasionally meet people who had committed it to memory. He himself included a line-by-line commentary on the letter in one of his final books, The Root of War is Fear: Thomas Merton's Advice to Peacemakers. It remains one of the most succinct and eloquent accounts of the spirituality of peacemaking
The spirituality of peacemaking became a theme in many of Jim's books. These included Loving Our Enemies: Reflections on the Hardest Commandment. For Jim, the call to reconciliation, peacemaking, and loving our enemies was part of the larger call to imitate Christ. The handbook of that call could be found in the Beatitudes--the subject of one of his most popular books, The Ladder of the Beatitudes. Jim argued that the various blessings outlined by Jesus were not unrelated, but were the rungs of a ladder, in which each step along the way followed the others. The life of discipleship was a journey, or better, a pilgrimage. That was the theme of his book The Road to Emmaus. In the spirit of pilgrimage, he showed, everything that occurs in our lives, all that we encounter, takes on new meaning in relation to our intended goal. The way of pilgrimage was "a way of living that opens to the unexpected encounter with Jesus in our daily life."
That unexpected encounter with Jesus could take many forms. In one of the chapters he described "illness as pilgrimage," recounting the spiritual lessons from his experience of kidney failure, which for some years entailed regular sessions of dialysis. (That story would later have a wonderful conclusion when his beloved wife Nancy successfully donated one of her kidneys, thus extending his life for a decade).
If I know Jim's books well, that reflects the most remarkable evolution of our relationship, as our friendship was augmented with my role as his principal editor and publisher. Jim had always been a prolific writer, but with my appointment in 1987 as editor-in-chief of Orbis Books, a new chapter in Jim's writing life began.
All told, we worked together on twelve volumes, several of them with multiple editions. At the center of these were his illustrated biographies of some of the great peacemakers with whom his own life (as well as mine) had intersected: Dorothy Day (Love is the Measure, later revised as All is Grace); Thomas Merton (Living with Wisdom, which went through two editions); Daniel Berrigan (At Play in the Lions' Den); and his final book on Thich Nhat Hanh (Eyes of Compassion).
For a writer, Jim was especially attuned to the power of images, and with each manuscript he submitted lists of possible illustrations. This played a particularly important role with his biographies. But with Praying with Icons (in two editions), the one book I actually suggested that he write, it was absolutely central. Among Jim's book, this was the one that most clearly highlighted his Orthodox spirituality. It was also his most successful.
But apart from his own books, Jim generously contributed lengthy introductions to many other titles, including our edition of the prison writings of Franz Jägerstätter, the selected writings of the Orthodox saint, Mother Maria Skobstova, the Catholic Worker art of Fritz Eichenberg, and Thomas Merton's Peace in the Post-Christian Era (a text once distributed only in mimeographed form, published for the first time by Orbis).
One of his last and certainly most personal books was his memoir, Writing Straight with Crooked Lines. The title of the book comes, of course, from the famous proverb, "God Writes Straight with Crooked Lines." It was certainly an apt description of the twists and turns of his life, a story he had initially thought of titling "conversion in progress." In the course of our friendship, much of this story was familiar to me: his unusual upbringing, being raised by dedicated Communists in the midst of the Cold War; the impact of his parents' divorce, which seemed to set him adrift before his enlistment in the Navy; his conversion to Catholicism, joined almost immediately by the conviction that this must mean embracing nonviolence; his discharge as a C.O., and entry into the life of the Catholic Worker and all that followed. With honesty and compassion, he also recounted experiences of doubt, uncertainty, and failure, not least in certain relationships, before his blessed marriage to Nancy, his wife and companion for 40 years.
In some ways Jim's story could be told in relation to the remarkable peacemakers and spiritual teachers who were the subjects of his books. But he was not a mere chronicler. Though less known than some of his great subjects, there is no doubt that Jim was himself a great soul, who strived faithfully to live the wisdom contained in his books. I think of his incredible spirit of hospitality and welcome, his effort truly to encounter Christ in others, to recognize and nourish the seed of divinity in each person he encountered. That motivated his practice of forgiveness, his effort to think the best of others, to see in each person a potential friend.
How he loved his friends, how he rejoiced in their happiness and kept watch over their sorrows! Certainly, he accompanied me through all the stages of my own circuitous journey, through constant letters, sometimes on a daily basis, regular visits in Alkmaar or in my home, where he befriended my children, and collaboration on many projects, including the cause for Dorothy Day's canonization. Every conversation with Jim was a feast. Every meal with Jim was a sacrament.
He was a man of scripture, sacred stories, prayer, and liturgy. He never pretended to be perfect or set himself up as a model; yet in his tenderness and commitment to truth he called forth the best in those he met. As even Dorothy remarked in wonder, "I don't remember ever hearing you criticize people."
Thomas Merton once observed that we often think of saints as being close to God, but perhaps not entirely human. Actually, he said, sanctity is really a matter of being more fully human: "This implies a greater capacity for concern, for suffering, for understanding, for sympathy, but also for humor, for joy, for appreciation for the good and beautiful things of life." Those words so capture my friend. For Jim there was a time for laughter (often uproarious) and a time for mourning (and his tears were easily triggered.) I think of his love of music, movies, poetry, great literature, nature, art, his capacity to delight in children, good food, good beer, good jokes, good company, and goodness itself.
Sometimes, Jim seemed to doubt the importance of his own witness, wondering if his own life was just a pale imitation of the figures he so admired. In that same evening in which we talked about the signs and graced synchronicities in our lives, he told me that he sometimes thought of all his great mentors, regretting that he couldn't match Merton's capacity for contemplation, or Nhat Hanh's mindfulness, or Day's spirit of hospitality, or Berrigan's courageous witness. I said, "If they could only see how much you have repaid their love for you!"
I think of all that grew and grows still from the small seed of our first meeting half a century ago. As Merton said, "In the end it is the importance of personal relationships that saves everything." Beginning with Jim, that has been my experience.
---
Robert Ellsberg is a lifelong friend of Jim's, his editor, publisher, and collaborator. He serves as editor-in-chief and publisher of Orbis Books, the publishing arm of Maryknoll.