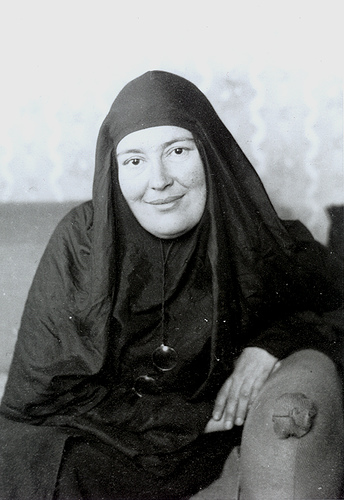 Icons of Saints Maria of Paris and those canonized with her plus prayers
Here is a small collection icons of St. Maria of Paris and those canonized with her. The Tropar and Kontak for the feast day of the four saints, July 20, are at the bottom of this page.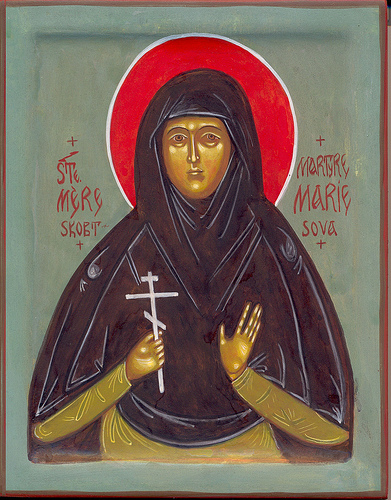 Above, an icon painted in 2007 by John Reves in Austria. (Mounted prints of this icon are available from Come and See Icons: http://www.comeandseeicons.com/m/opf01.htm.)
Above Icon by Father John Matusiak 2009
This icon was made in 2008 for Archbishop Gabriel of Comana, Exarch of the Ecumenical Patriarch. The iconographer is Patricia Fostiropoulis. The icon size is 30.5 x 40 cm.
The icon below, used at the services of glorification at the Cathedral of St Alexander Nevsky in Paris on May 1 and 2, 2004, was written by Maria Struve, who personally knew the four saints. This is scanned from the card given to all who were present for the glorification. Note that the background color of the actual icon is more cream than orange.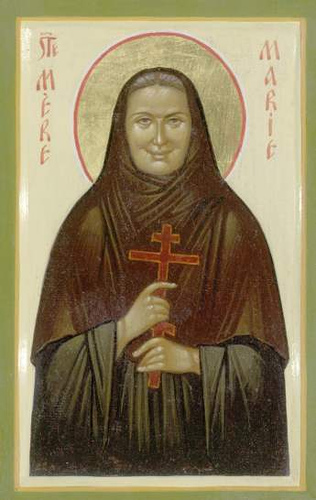 Above, an icon of Mother Maria by the Deacon-iconographer Paul of the Monastery of Pervijze in Diksmuide, Belgium.
Above, an icon painted in 2006 by Patricia Fostiropoulos in London. The icon is at the Orthodox parish in Lewes, Sussex, England,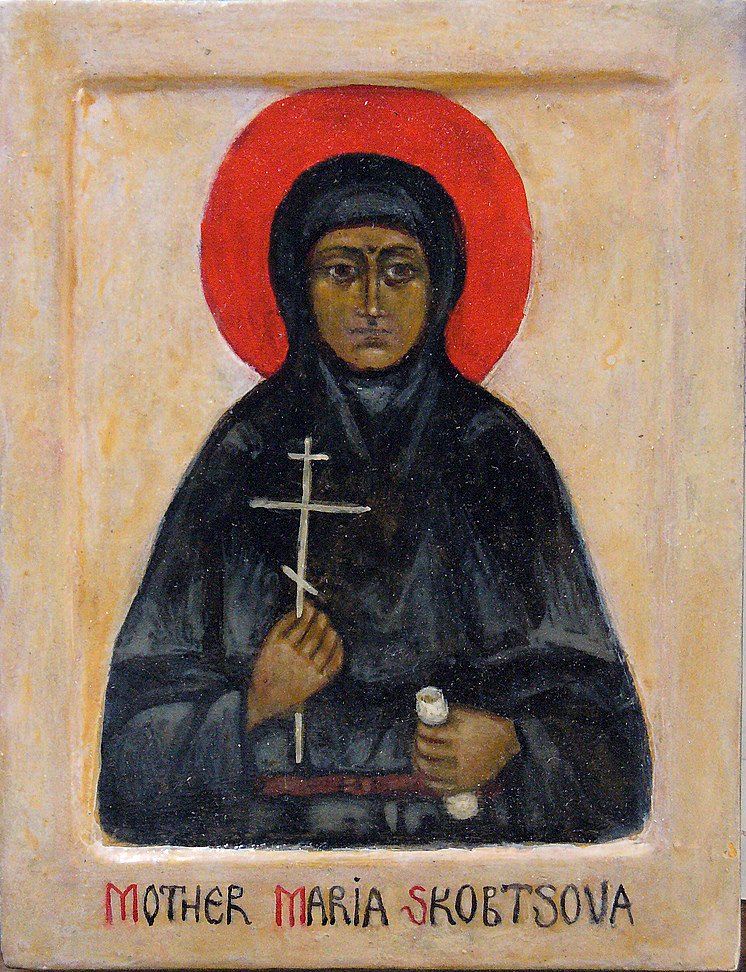 Above: Iconographer Macha Struve is based in Paris.
Below, An icon commissioned by Fr. Michael Plekon and painted by John Reves.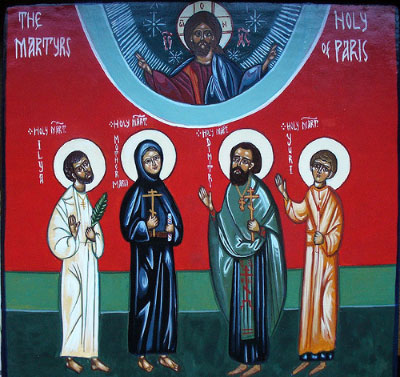 Below, an icon of Mother Maria by Janet Peters.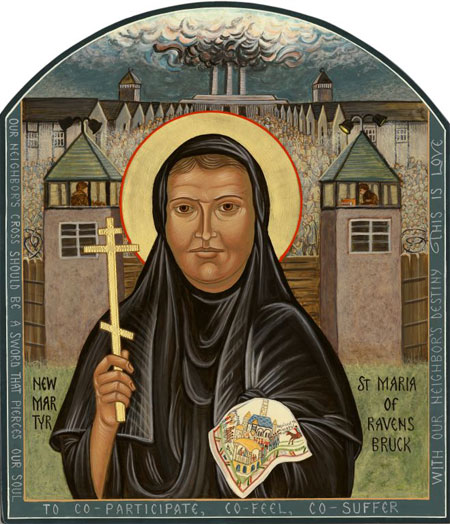 St Dimitri Klepinin of Paris
was the priest working closely with Mother Maria. Like her, he died in a concentration camp. The icon is on the wall of the church in the Monastery of the Protection of the Mother of God in Bussy, France.
A large set of icons and photos relating to the four saints is here: http://www.flickr.com/photos/jimforest/sets/72157594152181792/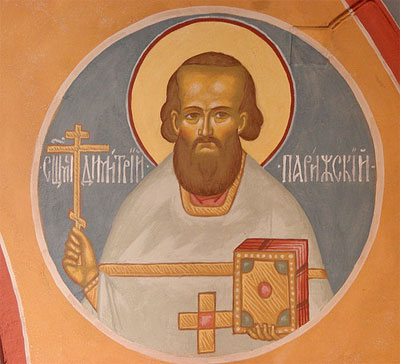 Tropaire, ton 1:
Par les souffrances que les saints ont endurées pour Toi
sois emploré, Seigneur,
et guéris toutes nos maladies:
nous t'en prions, ô Ami des hommes.
Tropar - Tone 1:
Through the sufferings which the saints have endured for Your sake,
O Lord, we beseech You
to heal all of our infirmities,
O Good Friend of Man.
Kontakion, ton 8. Sur: Commes premices:
Comme témoins de la vérité, et prédicateurs de la piété,
honorons dignement par des chants divinement inspirés
Dimitri, Marie, Georges et Elie,
ayant supporté les liens, les souffrances et l'injuste jugement,
et que par les martyre ont reçu la couronne inflétrissable.
Kondak - Tone 8:
As witnesses of truth and preachers of piety,
let us worthily honor through divinely inspired chants:
Dimitri, Maria, George and Elias,
who have borne the sufferings,
the bonds and unjust judgment,
in which like the martyrs
have received the imperishable crown.
* * *
Here are the Troparion and Kontakion for St. Maria from an Orthodox Church in America publication--Saints in Times of Trouble--published by the OCA. You can find the entire document here: www.iglesiaortodoxa.cl/revistas/saints-in-trouble.pdf
The booklet provides an activity book for children.
Troparion (Tone 4)
You became a bride of Christ, O venerable Mother,
And offered your body and soul to Him as a living sacrifice.
You exposed the evil side of humanity's ways
By allowing the light of the Resurrection to shine forth from you.
We celebrate your memory in love.
O Martyr and Confessor Maria
Pray to Christ our God that He may save our souls.
Kontakion (Tone 6)
You became an instrument of divine love, O holy martyr Maria,
And taught us to love Christ with all our being.
You conquered evil by not submitting yourself into the hands of the destroyer of souls.
You drank from the cup of suffering.
The Creator accepted your death above any other sacrifice
And crowned you with the laurels of victory with His mighty hand.
Pray fervently that nothing may hinder us from fulfilling God's will
Because you are a bright star shining in darkness!
* * *