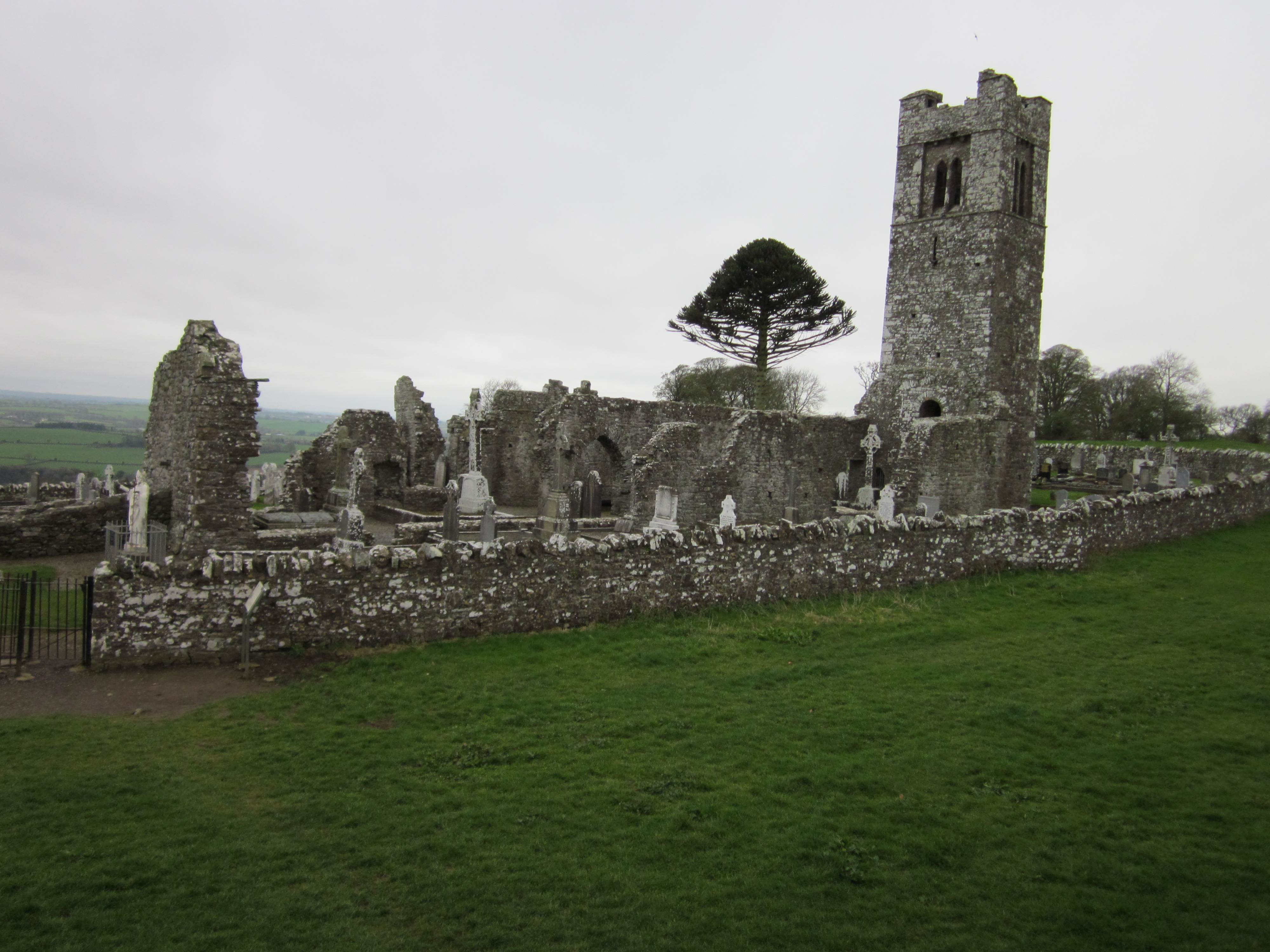 St. Patrick's Challenge to Nationalism
by Pieter Dykhorst
This is how we can repay such blessings, when our lives change and we come to know God, to praise and bear witness to his great wonders before every nation under heaven….I testify in truth and in great joy of heart before God and his holy angels that I never had any other reason for returning to that nation from which I had earlier escaped [Ireland], except the gospel and God's promises.
—St. Patrick
Few saints are as well known or have so much written about them as Saint Patrick, patron saint of Ireland. The body of work attributed to the very real 5th century Christian missionary and saint of that name is so large––and the historical record suggests that much of that work took place over significantly more than the span of one lifetime––that some scholars suggest there must have been two Patricks or that some unknown contemporary shared the work.
The St. Patrick we know, on whom the legend is based, did leave behind a written record that tells us a great deal but far too little to confidently describe his accomplishments. Patrick's own words suggest that while all of the astounding growth and success of Christianity in Ireland in that period may not be directly attributable to him, his work laid the foundations for much of it.
Patrick left us two documents––a short biography and a letter––that provide a brief sketch of his life, a number of clues about the nature and scope of his ministry, and considerable insight into the nature of his faith, theology, and character. The wide-angle picture they give of his life and ministry offer few details, and together they wouldn't fill half an issue of In Communion.
Most of the legend of St. Patrick comes from hagiography written down more than a century later. They connect the dots Patrick provides for a more robust picture of his life. But they also conflate his story with what was done by others who came after him. Much in them may be taken as reliably descriptive of Patrick and his life but cannot be taken as factual without additional evidence.
A third narrative informing contemporary notions about Patrick is the popular cultural fiction full of fun things like green beer, leprechauns, and pots of gold.
The Irish are not alone in surrounding an important historical figure with a popular mythology. The society without such mythologies probably does not exist. Patrick is on our cover in this issue for two purposes. Without begrudging Patrick his place in Irish hearts, we want to rescue him from being a saint merely for the Irish and restore him to the whole Church for all to venerate. By getting to know each other's saints, we engage in bridge building and are drawn into a richer Orthodoxy and away from our tendency to remain too comfortably settled in our jurisdictional, cultural, or ethnic ghettos.
The makeover of Patrick from Orthodox saint to national patron also serves to exemplify how Christians may over time fall prey to erroneous thinking about not only our collective cultural and historical identities but also our Christian identity. By the 15th century, St. Patrick was only one of about thirty-five "pattern day" saints (patrons) in Ireland, albeit possibly the most important. He become Ireland's Patron Saint when he was made the emblem of Irishness at the rise of Irish nationalism beginning in the 18th century. By teasing Patrick's narratives apart, we find in him a father of the faith to the Irish around whom they may gather for celebration, but nothing like a national hero.
Very late in his ministry and near the end of his life, Patrick wrote his two documents. They clearly suggest he didn't write much else, at least not earlier and nothing that might have been intended as a record. His very short Confessio was written self-consciously to the posterity of his Irish children in the faith, and the Letter to the Soldiers of Coroticus was written against the chief of a band of murdering and plundering slavers who raided the Christians under Patrick's care. One may feel a natural skepticism toward autobiographical sketches, but while Patrick's words erect a bare biographical framework, they convey a profound and believable humility. Reluctant to tell his story, he seems more compelled to talk about God's faithfulness, his own unworthiness, and his great love for his Irish children in Christ.
Patrick's confession begins "My name is Patrick. I am a sinner, a simple country person, and the least of all believers. I am looked down upon by many." And then in one short paragraph, he offers nearly all of what he eventually gives us of the bones of his biography:
My father was Calpornius. He was a deacon; his father was Potitus, a priest, who lived at Bannavem Taburniae [somewhere in Roman Britain]. His home was near there, and that is where I was taken prisoner. I was about sixteen at the time. At that time, I did not know the true God. I was taken into captivity in Ireland, along with thousands of others.
Image of Dumbarton Castle. One theory of Patrick's origins holds that he came from near Dumbarton in present day Scotland. No one knows where Bannavern Taburniae was.
He tells us that his story would be long if he told his "each and every deed" in Ireland. But he doesn't; instead, his biography is really a lengthy confession of God:
So I am…a refugee, and unlearned. I do not know how to provide for the future. But this I know for certain, that before I was brought low, I was like a stone lying deep in the mud. Then he who is powerful came and in his mercy pulled me out, and lifted me up and placed me on the very top of the wall. That is why I must shout aloud in return to the Lord for such great good deeds of his, here and now and forever, which the human mind cannot measure.
So be amazed, all you people great and small who fear God! You well-educated people in authority, listen and examine this carefully. Who was it who called one as foolish as I am from the middle of those who are seen to be wise and experienced in law and powerful in speech and in everything? If I am most looked down upon, yet he inspired me, before others, so that I would faithfully serve the nations with awe and reverence and without blame: the nations to whom the love of Christ brought me. His gift was that I would spend my life, if I were worthy of it, to serving them in truth and with humility to the end.
Only after several paragraphs does Patrick offer just a little more detail about his circumstances. We learn that he and the many with him were taken because they "deserved this, because we had gone away from God, and did not keep his commandments." He describes his life as a simple shepherd and tells of hearing God's voice prompting him to escape, which he did after six years; about his years-long journey to return home again; and how he eventually returned to Ireland ––again being directed by God in visions––probably in his forties and over the strong protest of his family. Patrick's Letter to the Soldiers of Coroticus is similarly written in the style of a confession but with a more practical purpose. A lament for the killing and plundering of Christians and an encouragement to his beloved suffering Irish children in Christ, he begins the letter with these words:
I declare that I, Patrick, an unlearned sinner indeed, have been established a bishop in Ireland. I hold quite certainly that what I am, I have accepted from God. I live as an alien among non-Roman peoples, an exile on account of the love of God––he is my witness that this is so…. The truth of Christ stimulates me, for love of neighbors and children: for these, I have given up my homeland and my parents, and my very life to death, if I am worthy of that. I live for my God, to teach these peoples…. With my own hand I have written and put together these words to be given and handed on and sent to the soldiers of Coroticus. I cannot say that they are my fellow-citizens, nor fellow-citizens of the saints of Rome, but fellow-citizens of demons, because of their evil works. By their hostile ways they live in death…. They are blood-stained with the blood of innocent Christians, whose numbers I have given birth to in God and confirmed in Christ.
After descriptions of Coroticus' crimes, encouragement to the suffering Irish Christians, and a defense of his ministry, Patrick ends with a purposeful appeal:
I ask insistently whatever servant of God is courageous enough to be a bearer of these messages, that it…be read before all the people, especially in the presence of Coroticus himself. If this takes place, God may inspire them to come back to their right senses before God. However late it may be, may they repent of acting so wrongly, the murder of the brethren of the Lord, and set free the baptized women prisoners whom they previously seized. So may they deserve to live for God, and be made whole here and in eternity. Peace to the Father and the Son and the Holy Spirit. Amen.
It would be surprising if "each and every deed" of Patrick's life were not repeated, did not become legendary, and did not also evolve by the time they were written down. by his own testimony, Patrick converted thousands, preached all over Ireland, and had dealings with kings and chieftains––he tells of one king who was quite unhappy when his daughter, guided by Patrick, became a nun. There were also conflations, fictionalizations, and inaccurate attributions. We learn from the legends, for example, that Patrick founded monasteries, faithfully taught about the Trinity to a pantheistic culture, and wrote certain poems and prayers that have survived. Likely he did found monasteries—he wrote of the many Christians under his care who entered monastic life—though no historical proof exists that he founded any, and he gives clear evidence that he faithfully taught the Orthodox doctrines of the Trinity, though historians doubt he used the shamrock to do so. It wouldn't be surprising if he wrote prayers and made contributions to liturgical practice, yet historians doubt he wrote the ones attributed to him, and none others any longer exist.
Some of what is handed down is wholly fiction. He didn't drive snakes from Ireland. Scientists who know tell us there is no evidence there have been any in Ireland since at least the last ice age, though banishing snakes may be metaphor for converting druidic folk to the worship of God in Christ. Patrick didn't convert all of Ireland––that was mostly accomplished by the 14th century. He didn't bring Christianity to Ireland and wasn't the first Christian bishop—Christianity reached the island about a hundred years earlier and at least one bishop preceded him. Probably he was also not the only bishop in Ireland during his lifetime.
It remains for the skeptic to believe, however, that Patrick is not central to the story of the Irish Church, for no matter how sparsely documented are the lives of certain figures, popular culture never escapes their influence or fails to form collective memories of them. When those memories are later recorded and work done by Patrick's spiritual children and grandchildren is attributed to him, the credit isn't wholly misplaced. Knowing better the true story shouldn't diminish him. The man who spent himself for the Irish "so that you may have me for yours," and who "traveled everywhere among you for your own sake, in many dangers, and even to the furthest parts where nobody lived beyond, and where nobody ever went, to baptize and to ordain clerics or to bring people to fulfillment" remains worthy of collective commemoration of Christian faithful everywhere.
The Irish have succeeded in making Patrick their own, though he is not considered something like an Irish ethnic forebear. He became one of the most successful symbols of national identity anywhere by simple inclusion in the common national narrative. Patrick was one of many saints celebrated in Ireland when his feast day was taken over by parades, all things green, Guinness beer, and rousing music and fun prose. Over time many other elements of Irish identity were included—the Blarney Stone, Leprechauns, pots of gold—as St. Patrick's Day evolved into a celebration of all things Irish.
As is very often the case among expatriate communities, Irish emigrants were among the most vocal advocates not only for creating and preserving a coherent and distinct Irish identity but for championing the political cause of the motherland. The keenest boosters of Irishness and Irish independence from Britain were found in America in the 18th century where the first St. Paddy's Day parade took place in New York City as part of the nascent Irish Nationalist movement.
As the Irish formed communities in America, they began for the first time to think of what it meant to be Irish in the midst of others. Most had never thought in terms of ethnicity or national identity. Being Catholic became subordinate to being Irish as they sought to build and preserve their cultural distinctiveness. Over time, Gaelic culture became the matrix of Irish identity, in contrast to English culture. As the narrative of Irish cultural nationalism secularized, so did Patrick. Nobody seemed to notice that the saint was being erased from the page.
Despite being a driving force in most civic and international conflict, nationalism is much misunderstood. Irish nationalism is but one form, and Patrick provides but one example of a figure being co-opted in a nationalist project. Americans do not think of themselves as nationalistic, yet America broadly fosters a Civic Nationalism of a politico-credal sort even while other forms of nationalism flourish among a variety of groups, among them the messianic, religious nationalism of some Evangelical Protestants in which America is God's chosen among the nations of the world. Americans often confuse patriotism with nationalism but they are not the same thing at all 1. One need not be a patriot to be a nationalist or a nationalist to be a patriot, or one may be both. Orthodox too hold to a variety of nationalisms, some of them are overtly religious while others are less so.
Bridal Party on the Hardanger, by Norwegian Romantic Nationalists Adolph Tideman and Hans Gude, is an example of 19th century Norwegian art commissioned to strengthen the notion of Norwegian separateness in Scandinavia in a bid to split from union with Sweden. The boat is carrying a group dressed in "traditional" Norwegian garb who are leaving a church. The imagery mimics Orthodox conceptions of the Church carrying the saints in an alien and hostile world.
Among all forms of nationalism, religion remains the most powerful tool in any nationalist identity-building project because of the nature of religious belief. Religion is primary to believers' sense of being human in the world. With religion at the core of understanding about the world and self and how all things relate to one another, religion becomes a handy cornerstone of collective-identity building around which many nation groups are formed. Who we are (personal ideas of identity are not possible without collective identity—it is the matrix in which personal identity is formed) unconsciously infuses every thought and perspective and thing with meaning so that we may say culture—that which defines the parameters and content of collective identity—becomes as water is to a fish, something not noticed until it is either threatened or absent or until something in stark contrast is presented as an alternative. When our culture—that is to say our collective being—is threatened or challenged, it's existential primacy becomes immediately apparent as we instinctively defend it as we would our lives. Religion thus is often usefully the key element, albeit only one, of a complete montage of cultural components built together to form the being of each member of a national group from birth.
Religion-infused cultures abound. Orthodox, Catholic, and Protestant countries (examples: Greece, Spain, USA) with long histories of Christianity being a dominant culturally formative factor could not be imagined without their Christianized character, regardless of whether or not any or most of their citizens still think of themselves as Christian. A couple of good examples of Christianity being consciously used to create an exclusive national identity, with varying degrees of success, would be in the increasingly influential narrative of America as a Christian nation uniquely blessed by God or the Greek nationalist project that conflates ancient Hellenic history with Byzantine Orthodox history to create an exclusive Orthodox Greek nation. Religion so used becomes the defining element of a nation-forming group's identity. Their cultural particularities become the evidence of God's blessing––the standard of good citizenship––and the means by which his blessing is maintained. Religious nationalism in any of many forms is the most obdurate and formidable of all nationalisms, Orthodox nationalisms being good examples rather than exceptions. Orthodox Christians often understand nationalism to be the same thing as ethnophyletism, which is the conflation of ethnic, or racial, and Orthodox identities to form nation groups that form the basis of both Church and State. The manifestations of this in the Balkans in the late 19th century—think principally of Greece or Bulgaria—was the cause of a Holy and Great pan-Orthodox Synod in Istanbul condemning this kind of nationalism in 1872. Orthodox who now routinely condemn ethnophyletism often remain nationalists of another type. But the nasty treachery of all nationalistic thinking is that it always makes us exclusive.
An example of non-ethnophyletic nationalism with religious dimensions among Orthodox is the Arab Nationalism of the Syrian Ba'ath party (forming around cultural "Arabness" with language as the primary identity marker) and which is held by large numbers of Syrian Orthodox Christians. A recent statement posted to the Antiochian Orthodox Patriarchate's website in the name of Patriarch John X,2 states that "The Church of Antioch and all the East for the Greek Orthodox makes a point to affirm at all times that it is a daughter of the nation and is the abode in which they reside." In the statement, the Mosque and the Church are linked as equal sister-daughters of the nation of Syria. In the Arab nationalism of the Syrian Ba'ath––as distinct from the Iraqi Ba'ath, which they split from in 1966––one is first a Syrian Arab and then either Orthodox or something else. Arab, Syrian, and Orthodox are thus conflated in a way that is not only wrong but much contested by other Syrians, Arabs, and Christians.
Not all difference is exclusive, however, and the warmth we naturally feel for our own cultural heritage is part of being human and is the natural consequence of how we are formed socially, culturally, linguistically, and generally in our whole-world view. The normal cultural differences that exist between groups are generally never intended to divide. The real problem of nationalism among Orthodox, however, is not in so benign a thing as the cultural preference of "Cristos anesti" over "Christ is risen" or "Krishti ungjall" or in enjoying plum pudding over baclava or in certain ritualistic preferences during the Divine Liturgy: while these things may naturally provide distinction as between families, they need not be divisive. The problem manifests when there is conflict or when difference forces the kinds of choice that expose competing allegiances and we begin to fight either to defend our difference or to elevate it. The contorted apologetics for the Syrian and Russian governments common among Arab and Russian Orthodox that fly in the face of fundamental Christian values is the result of such conflated loyalties.
One evidence of conflated Orthodox and national identity is the very modern phenomenon of making saints national heroes or national heroes saints. something that by its nature is divisive within the Kingdom of God and should be anathema to the Church but is instead common!
A common manifestation of softly held or unconscious nationalist sentiment is an elitism that sometimes makes others feel less "Orthodox" for being of another jurisdictional, ethnic, or cultural group because of the way we cleave to our national identity. The division of the Orthodox world into cultural and ethnic jurisdictions has created what some call Orthodox ghettos (ghetto implies separation not poverty) wherein a monolithic way of being Orthodox that results in isolation is created by the conflation of our own customs with the Orthodox faith. Visitors to Orthodox parishes should not be made to feel they must first, or even also, become Greek, Serb, Russian, or Arab to become truly Orthodox. Looking to the future, American Orthodox should avoid creating a similar attitude that elevates a version of culturally American Orthodoxy over other forms––something many are already promoting.
When Christ sent his disciples out, he called them ambassadors, people who represent the interests of one state to the leaders of another. Ambassadors who are confused in their allegiance are likely to be called spies and may be stripped of their citizenship rights, imprisoned, and often executed, as are citizens who switch sides to serve the interests of a rival state. It shouldn't surprise us that the earliest missionaries usually found themselves in courts and before kings declaring their allegiance to God and were commonly martyred for it. Christ did not tell his disciples "You should not serve two masters"; he said "You cannot." For, when you serve the one, you automatically oppose the interests of the other: you must choose. Ultimately, attempting to simultaneously serve two rival interests merely makes one useless to both. When the released Syrian and Lebanese nuns of Mar Thecla monastery contradicted the widely held perspective among Orthodox that they were being mistreated during their captivity, they were branded by the Church as traitors to Syria and unfaithful to the Church3. The conflated loyalties of the Church leaders in this instance promoted their national loyalty and compromised their spiritual sense.
When we consciously choose to exclusively serve Christ, we cultivate our Christian-ness to be a culturally transformative force rather than guarding it as part of our inherited cultural identity. Our lives are neither gift nor extension of anything earthly: we are not merely products of a history stream and so we do not owe our primary allegiance to any other product of history, such as a nation-state.
He made from one man every nation of mankind to live on all the face of the earth, having determined their appointed times and the boundaries of their habitation, that they would seek God, if perhaps they might grope for Him and find Him, though He is not far from each one of us; for in Him we live and move and exist, as even some of your own poets have said, 'For we also are His children' (Acts 17:26-28).
The Irish rightly love Patrick for his sacrificial work of building up the Irish Church, a legacy that lasts into eternity. But the very inclusion of Patrick in the Irish nationalist mythology diminishes him and casts a shadow over a saint who belongs to the whole Church everywhere and everywhen. It is a fundamental aspect of being human that we are defined by others, though at times in our development we are allowed to choose by whom. Like the apostle Peter, Patrick chose his identity in Christ. In answering Jesus with "You are the Christ, the Son of the living God" Peter was given his own identity. It was in his recognition—by the Father's revelation—of Christ that he was captured and transformed into a citizen of God's Kingdom to be eventually martyred by Rome, the symbol of earthly citizenship.
Patrick willingly became a servant of "the nations" to whom he was sent from his home in Britain—there was no Ireland then, only the chaos of competing kingdoms just the other side of the Roman frontier. By the 4th century, a primitive Irish was widely spoken but a variety of Celtic languages were still common. Patrick saw an island in need not of "civilized" culture, Imperial rule, or a strong local king to bring lasting stability but the gospel. He went to share the gospel with "the nations to which the love of Christ brought me" at the end of the world, where he thought he was. Nationalism is a modern phenomenon, but it is possessed by the same sick spirit as tribalism, culturalism, ethnicism, imperialism, and so many other isms. Only as each of us discovers our full and true identity in an encounter with Christ, the Son of the living God, will we find the cure for the sickness of nationalism.  IC  [wpanchor id="footnotes"]
Footnotes:
1. Simple working definitions: Patriotism is the natural love for one's own country; nationalism is a political philosophy that claims statehood belongs primarily to distinct and exclusive national-identity groups. Click
HERE
for information on the OPF resource on nationalism, For the Peace from Above. Also search our website for more resources.
2. The full statement may be found on our website in Arabic
HERE
and in English
HERE
. Ba'athism is a socialist Arab Nationalism that conflates numerous identity groups to form the fiction of a Syrian nationality for the purpose of creating a secular state of Syria. Michel Aflaq, an Antiochian Orthodox, was a founder of Ba'athism. Hafiz Assad was its champion, and like Bashar today, was ruthless in eliminating competing political parties. The current civil war is the continuation of that struggle. The Antiochian Orthodox Patriarchate supports the Assad family and its nationalist ideology, though they may not be Ba'athist––Patriarchal statements often reflect more general Pan-Arab nationalism. 3. From the Patriarchal statement referenced in footnote 2.
________________________________________________
Competing nationalist narratives in Syria create false dichotomies that force people into mutually exclusive identity groups.
Ba'athist nationalism creates a Syrian identity that falsely conflates Christian and Muslim as sister-daughters of the nation. Sectarian nationalists of various kinds manipulate and exploit religious difference to divide and create conflict.