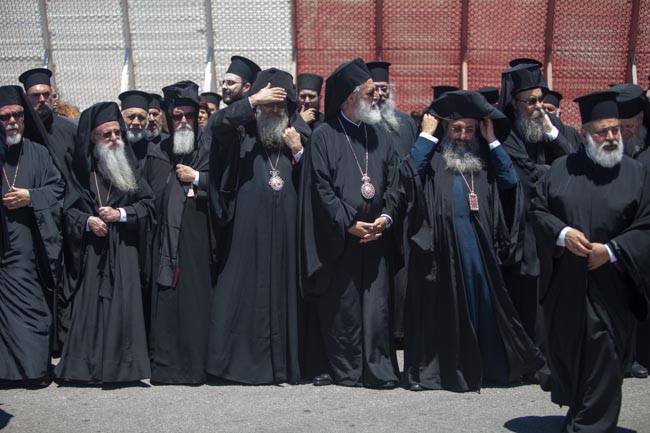 OPF & IC's Nicholas Sooy arrives in Crete
The Orthodox Peace Fellowship and In Communion applied to the Holy and Great Council press office for journalist's credentials for Nicholas Sooy to attend and cover the events of the council. We almost did it as a lark, not really expecting we would be approved. And we were about to leave on a road trip and weren't sure we had either time or money for a trip to Greece if we were approved.
On the 5th of June, Nicholas and I climbed into my car and headed out of DC on a twelve day, 1750 mile trip to visit various Orthodox ministries to see what Orthodox hospitality and reconciliation ministries looked like at street level--we will publish more on that later!
We arrived back home late on the 13th and the next morning we received  word our application had been approved. OPF & IC was going to Crete! We were a little blown away. By this time, we'd accepted that it was too late. Either the council was not happening or we simply weren't approved.
Only one of us could go, and Nicholas was our man. He is OPF's very first summer intern. He also happens to be a terrific writer with a gifted mind who will work with me as an unpaid staff member after the summer when he returns to New York, where he is a doctoral student at Fordham University. (Yes, he can do both things at the same time!)
We scrambled and found a flight leaving in less than twenty-four hours for half the normal price. Hard to say no to that! We also found an airbnb room for about $12 a night right in Chania--when we were looking online, Google told us, helpfully, that "4000 people are looking for rooms in Chania now." We held our breath, and clicked confirm for both. This morning he emailed me that he arrived safe and sound, but exhausted. It was already mid-afternoon there, and he'd just completed a seventeen hour trip, so I expect he's sleeping as I type this. Or he's jet lagged and also typing!
While Nicholas has been orderred to have fun, we are serious about another agenda. Nobody thinks this council is not flawed, and we are no exception. But we believe with all our hearts that it must happen because no council at all is far worse than a flawed council. From our perspective, the real work begins after the council anyway. Whatever bridges are built relationally and administratively on Crete will form a beachhead from which the peacemakers in the Church can begin the slog of taking back unity for our Church.
"Behold how good and pleasant it is for brothers to dwell together in unity" (Ps 133). This ideal isn't likely to be fulfilled in the next week, but we are praying and expecting it to become reality. In order for that to arrive sooner rather than later, we ask the Holy Spirit to move among our fractious and self-interested Fathers and those among them of brotherly good will. We're praying for the council to start and to conclude and that perhaps those who have pulled out in advance may even have a change of heart and attend anyway, or at least return to work afterwards.
Our agenda, the real reason Nicholas has gone to Crete, is to make friends and establish realtionships within as many delegations as possible. OPF wants to partner with whomever we can to promote peace and reconciliation within the Church from our small corner office. We already have important contacts with whom Nicholas will meet. We are confident he will be introduced to more.
He will be blogging here starting tomorrow. Please pray first for the council and also for Nicholas.
And if you can, please help us recover the cost of the trip, as reasonable as it is, so that we can keep the presses rolling. Generous friends have already replaced about half the cost in our coffers--we only need a few hundred bucks more. Use our "donate" button or your paypal account and send to [email protected] (both ways go to the same account).
Peace,
Pieter Dykhorst
editor In Communion